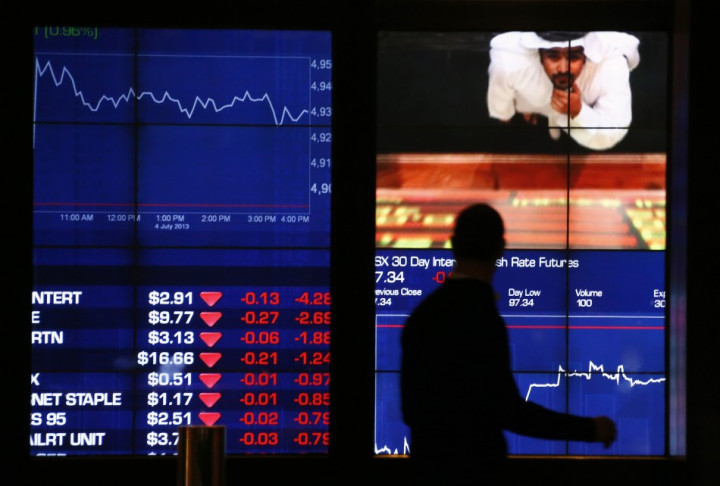 Asian markets were mixed, despite a rally on Wall Street, as investors laid low ahead of next week's economic growth data.
The Shanghai Composite index was down 0.37% or 7.74 points to 2,065.25.
South Korea's Kospi dipped 0.65% or 12.19 points to 1,865.41 points.
The Hang Seng dropped 0.54% or 116.07 points to 21,321.42.
Australia's S&P/ASX rose 0.38% or 19 points to 4,984.70
The Japanese Nikkei was up 0.27% or 39.67 points to 14,512.25.
China will release GDP growth numbers on 15 June. Chinese Finance Minister Lou Jiwei has said that the country's economic growth could average 7% in 2013, below the government's target of 7.5%. The economy expanded by 7.7% in the first three months of 2013.
Australian bank Macquarie has said it expects China to grow 7.3% in 2013, down from an earlier projection of 7.8%.
"In our opinion, structural reforms aimed at solving these problems could lead to even lower growth," said an analyst's note.
The bank also cut its 2014 economic growth forecast for China to 6.9% from an earlier 7.5%.
China's exports and imports declined unexpectedly in June adding to fears that the economy would face a deeper slowdown in the second quarter. Consumer price inflation accelerated in June to a four-month high, limiting the room for the central bank to ease policy rates to support the flagging economy.
Wall Street at New High
On Wall Street, indices rallied on Thursday to finish near their highest levels, boosted by US Federal Reserve Chairman Ben Bernanke's comment that US interest rates would remain low even when the unemployment rate threshold of 6.5% is reached, to aid economic recovery.
The Dow rocketed 169.26 points and finished 1.11% higher at 15460.92, a fresh all-time high for the benchmark index. All 30 Dow components finished higher.
The S&P 500 jumped 22.40 points and closed 1.36% higher at 1,675.02, a new closing high. The Nasdaq shot up 57.55 points and ended 1.63% higher at 3,578.30, the index's best finish since 2000.
In Shanghai, China Merchants Bank was down 2.4%. Shanghai Pudong Development Bank lost 2%.
The world's top bank by tier 1 capital, Industrial and Commercial Bank of China (ICBC), shed 1%.
In Seoul, Kia Motors lost 4.6% while rival and part owner Hyundai Motor fell 4.5% on news that more Chinese cities could restrict vehicle purchases in a bid to ease traffic congestion.
Rival automaker Ssangyong Motor, part of India's Mahindra Group, was down 3%.
In Tokyo, Fast Retailing fell 6.2% on news that its operating profit was slightly lower during the March to May third quarter in spite of a strong growth in sales.
Nippon Sheet Glass shot up by about 7% while air conditioner manufacturer Dainippon Screen added 4.7%.
Brewer Asahi Group Holdings gained 1.3% and camera-maker Canon added 0.9%.
In Hong Kong, foods company Tingyi Cayman Islands Holding fell 2.7%. Ping An Insurance Group shed 1%.
In Sydney, shares of gold miners Newcrest Mining, Kingsgate and Perseus Mining rallied between 8% and 9% after gold prices rose for a fifth session on Friday to post the yellow metal's highest weekly climb since October 2011.
Resources major BHP Billiton gained 2.2% while Anglo-Australian miner Rio Tinto moved up 1.8%.