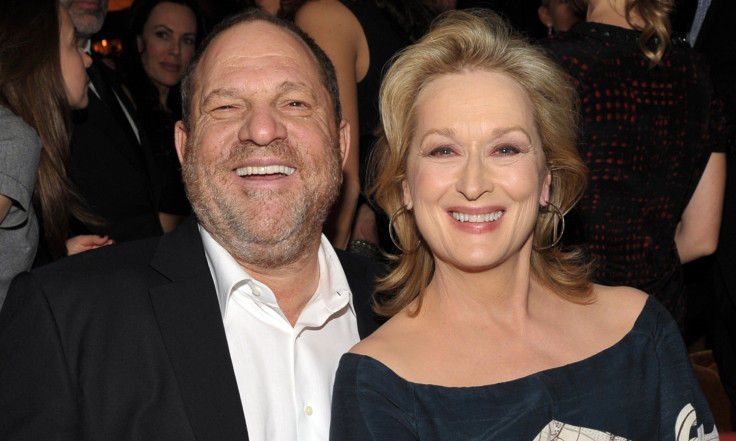 Posters have appeared across Los Angeles featuring a picture of Meryl Streep with disgraced Hollywood mogul Harvey Weinstein, with a red stripe and the text "She Knew" emblazoned across the Oscar winner's face.
Weinstein has been the subject of dozens of allegations of sexual harassment, assault and rape, as well as claims he abused his power as one of the film industry's most prolific and influential producers.
The posters imply that Streep knew about Weinstein's alleged crimes before they became public earlier this year. They appeared in apparent response to a recent row between Streep and actor Rose McGowan.
McGowan is one of Weinstein's most vocal accusers, having claimed that he raped her.
Anonymous street artists plastered up the posters at multiple locations in the city on Monday (18 December), including one near Streep's home, another opposite the 20th Century Fox studio lot and another near the Sag-Aftra union building.
Fox is the studio behind Streep's upcoming movie The Post – which also stars Tom Hanks and is directed by Steven Spielberg – which is tipped to bring her another Oscar nomination in 2018.
Her role in the film has already netted Streep a Golden Globe nomination. Reports emerged after the nominees were announced that many actors, including Streep, were planning to wear all black in protest against sexism in Hollywood.
In response to this, McGowan singled out Streep in a tweet: "Actresses, like Meryl Streep, who happily worked for The Pig Monster, are wearing black @GoldenGlobes in a silent protest. YOUR SILENCE is THE problem. You'll accept a fake award breathlessly & affect no real change. I despise your hypocrisy. Maybe you should all wear Marchesa."
Streep has also faced accusations that she knew about Weinstein's conduct but continued to work with him regardless.
She replied to McGowan in a statement: "I want to let her know I did not know about Weinstein's crimes, not in the 90s when he attacked her, or through subsequent decades when he proceeded to attack others.
"I wasn't deliberately silent. I didn't know. I don't tacitly approve of rape. I didn't know. I don't like young women being assaulted. I didn't know this was happening."
McGowan has since said she "did not accuse" Streep of knowing about Weinstein's crimes, after a report online claimed that she did.
Neither actor has responded to the posters.