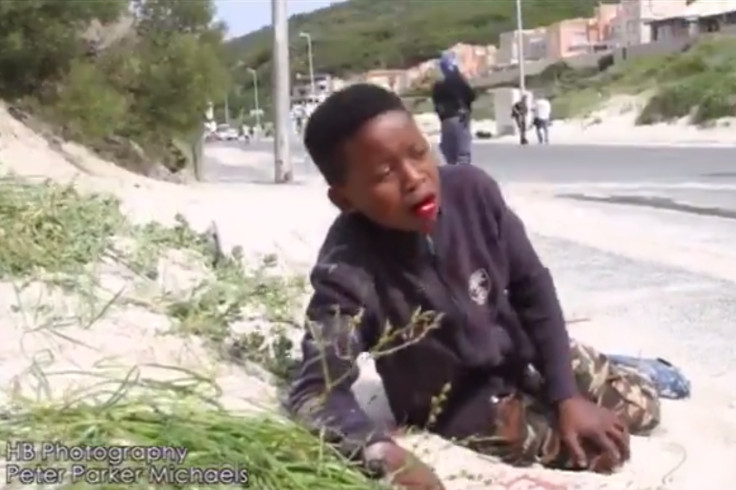 A video has emerged showing what appears to be a South African police officer shooting at a young teenage boy who was hiding behind a barricade during a protest.
The footage shows police officers moving in formation and firing rubber bullets down a road in Hout Bay, Cape Town, during a protest on Tuesday (12 September). People were demonstrating over decreased allocation of fishing quotas and perceived lack of services in the community, according to local media.
One officer can be seen approaching a barricade behind which 14-year-old Ona was hiding with a woman. The officer can be seen pointing his shotgun at them.
Moments later, Ona is seen walking towards the edge of the road with his mouth full blood. He removes what appears to be a rubber bullet from his mouth before collapsing on the floor.
Someone is heard saying "Is anyone helping this guy?" and "They shot him in the mouth". People can be heard screaming in the background.
Ona was hit with at least four rubber bullets; two hit his ribs and and another two his mouth. He had to undergo surgery to remove one of the bullets, stuck under his tongue, News 24 reported.
It is not clear at this stage if the South African Police Service (SAPS) are investigating the incident.
SAPS spokesperson Captain FC Van Wyk was quoted as saying: "It is alleged that a 14-year-old boy was injured during the protest action and was then taken to the fire station for treatment. We urge the guardian and/or parents of this boy to come forward to open a criminal case to be investigated."
The Independent Police Investigative Directorate (IPID) confirmed it was investigating the incident. "A case of attempted murder was registered. We will be looking into the possibility of opening another case for failure to report to IPID," sais spokesman Moses Dlamini speaking to news site GroundUp.
The boy's mother, Pinky Dubula, told Times Live the officer who allegedly shot at her son was aiming at the woman who was with him. The officer allegedly shot him in the ribs, she explained.
"The white officer came again and shot him on the mouth," she explained. "There were two bullets in his mouth. He managed to remove one but the other is still stuck under his tongue."
Dubula intends to open a case against the police, according to GroundUp. She explained that she wanted to keep the bullet that was removed from Ona's mouth as evidence for the case, but the staff at the Groote Schuur hospital said it was not permitted.