As no doubt you already know, US investor Warren Buffett is probably the best known and most successful investor of the last few decades, with his investment company Berkshire Hathaway posting a very impressive run of performance since the 1970s (Chart 1). No wonder then, that he is today one of the richest men in the world.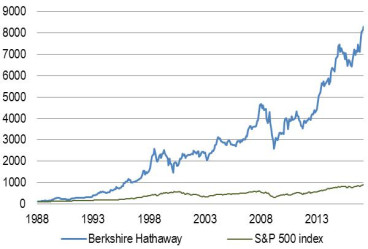 Given that he is one of the world's most successful investors, is it worth following what he invests in? This would seem to make a lot of sense, given his fantastic long-term investing history.
Over the last three months of 2016, we can see from the recent reports from his investment company Berkshire Hathaway what he has been investing in, and also what he has been selling.
What Buffett has been selling: Supermarket chain Wal-Mart
The main sale that Mr Buffett has made in the latter part of last year was £723m-worth of Wal-Mart stock. Wal-Mart is the world's largest supermarket chain, dominant in the US and also the owner of Asda in the UK.
Buffett acknowledges the disruptive force of online retailing from the likes of Amazon in the US, and also smaller players like Ocado in the UK. Even worse there has been a big loss of market share by the big-four supermarkets to German discounters Aldi and Lidl, who now have a 12% UK grocery market share today.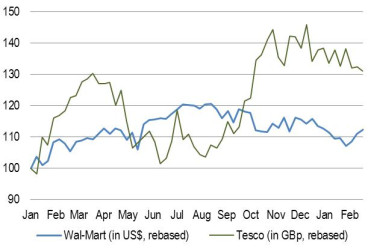 So as Buffett sells down his stake in Wal-Mart, perhaps it is time for UK investors to do the same in Tesco (code TSCO; Chart 2)?
A big purchase of Apple shares
In terms of big purchases of shares, Buffett has evidently become a big fan of US technology company Apple, raising his Berkshire Hathaway's holding in the iPhone maker from 15.2 million shares to 57.4 million. This stake is now worth around $7.7 billion at Apple's current $135 share price.
UK-based investors could follow Buffett in his love of Apple in one of two ways:
You can buy shares in UK-based Apple semiconductor chip supplier Imagination Technologies (code: IMG), which has seen its share price nearly double since the start of 2016 (Chart 3).
You can buy into the PowerShares Nasdaq-100 UCITS ETF(code EQQQ) in pounds sterling, which has as its largest single holding Apple, worth about 11.8% of the entire fund.


Chart 3: Apple on the rise, as is the Nasdaq-100 ETF and Imagination Tech

Source: Bloomberg, Autor
The other big sector Buffett is buying? Airlines...
Strangely enough, for a person who has previously shown a strong aversion to buying airline shares, Buffett's Berkshire Hathaway also accumulated large stakes in a number of US-based airlines, including SouthWest, Delta and United Continental. They are certainly cheap in valuation terms, and have performed very well over 2016.
Unlike US airlines like SouthWest, who have all performed very well since September last year, budget airlines; Ryanair, EasyJet and Wizz Air have struggled of late, partly due to the impact on UK traffic from the Brexit vote (Chart 4).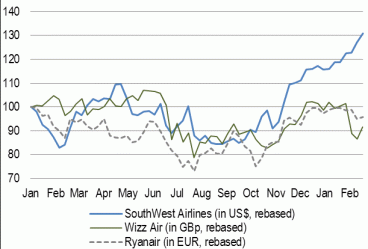 But with Ryanair (code: RYA) flying 17% more passengers in January this year than in the same month in 2016, there is still volume growth for the budget carriers, even if ticket prices have dropped back.
Wizz Air (code WIZZ) is also continuing to drive growth from the UK to its various central and East European destinations and remains "bullish, upbeat on UK demand", now planning to set up a UK base at Luton airport (where it is the second-biggest airline after EasyJet) by June of this year.
So Wizz Air and Ryanair could be interesting choices for UK investors looking to mimic Berkshire Hathaway's investment in the airline industry.