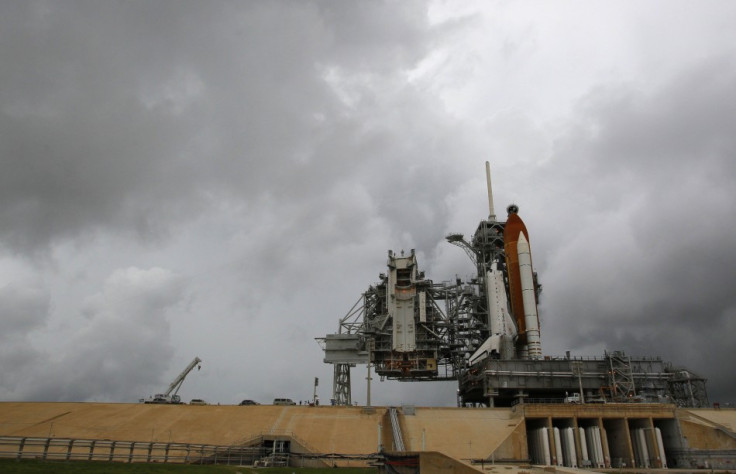 Thunderstorms threatened to delay the last space shuttle launch, set for today, and a lightning strike near the pad briefly caused NASA engineers to question whether the launch should take place at all.
However, after further examination, it now appears the have concluded that the shuttle is ready to go.
The lightning hit a water tower about 500 feet from the launchpad at midday Thursday, the space agency reported, before adding that technicians immediately checked for any signs of electrical problems, but dismissed the incident had caused any damage.
Despite NASA engineers optimism, the forecast for today, still look gloom as there weather forecasters insist there is only a 30% chance of acceptable weather at launch time, 11:26 a.m.
However, dismissing fears surrounding the weather conditions, NASA test director Jeff Spaulding pointed out that space shuttles have managed to launch with worse forecasts.
"There's some opportunity there," he said Thursday as the rain set in. "It's a really tough day if you make a decision not to go and it turns out to be good weather."
NASA is closing out its 30-year space shuttle program to take aim at asteroids and Mars, a project announced seven years ago by President Bush's administration.
Meanwhile, private companies will take over the job of hauling cargo and crews to the International Space Station.
NASA has until Sunday, possibly Monday, to get Atlantis and its four astronauts in orbit as otherwise, the spacecraft will remain grounded until the following weekend because of an Air Force rocket launch that takes priority.
No matter what the weather has in store, more than one million people are expected to gather around the area to witness the launch.
Amongst them, many astronauts have made the trip, including the first shuttle pilot, Robert Crippen, who opened the era aboard Columbia in 1981.
"It's a sad time for me, obviously, but it's also a time when I feel pride," Crippen told the Associated Press.
Atlantis is bound for the space station with a year's worth of provisions. NASA wants the orbiting outpost well-stocked in case there are delays in getting commercial cargo hauls started.
The first privately operated supply run -- by Space Exploration Technologies -- is tentatively scheduled for late this year.
The 12-day voyage by Atlantis should culminate with a touchdown back at Kennedy Space Centre on July 20, the 42nd anniversary of man's first steps on the moon.
"There's an old saying that says it's better to travel well than to arrive," Spaulding said. "And I'd have to say after the last 30 years, certainly our program and these shuttles, throughout all of their missions, have travelled very well. And after ... landing, I think we can say at that point that we've arrived."