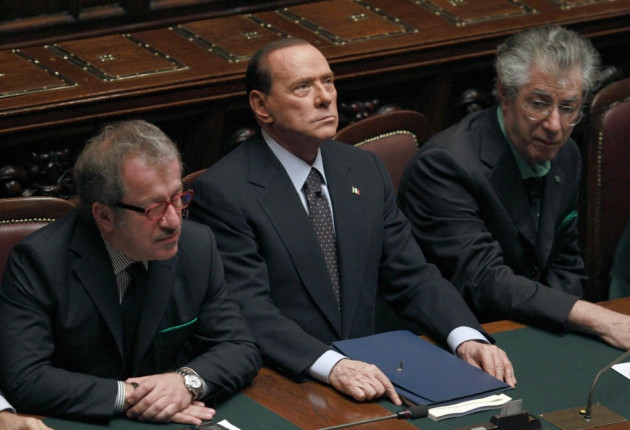 Italian Prime Minister Silvio Berlusconi, who has pledged to resign after the approval of urgent budget reforms, says he will not stand in new elections planned for February.
According to Berlusconi, his centre-right People of Freedom party will be led by former Justice Minister Angelino Alfano.
"I will resign as soon as the (budget) law is passed, and, since I believe there is no other majority possible, I see elections being held at the beginning of February and I will not be a candidate in them," he told the editor of La Stampa newspaper on Wednesday.
Berlusconi announced his resignation at the end of a day of political turmoil in Rome, after a vote on routine Italian public accounts exposed his lack of majority in the parliament. Italy budget law passed, but only 308 MPs voted for it, far below the 316 needed for an absolute majority, with many abstentions. He later met with President Giorgio Napolitano to discuss the vote results.
The 75-year old tycoon offered conditional resignation, saying he would not step down until parliament pushes through a package of economic reforms which have been demanded by the European Union to save Italy from a debt crisis.
"The government no longer has the majority that we thought we had," he told a television station minutes after his resignation announcement.
"Therefore, to be realistic, we have to acknowledge the situation and concern ourselves with Italy's situation and with what is happening with the markets."
However, the Italian Senate will not vote on the package until Nov. 15, and if approved, it would have to go before the Chamber of Deputies. As many Italian commentators have pointed out, this move may let the embattled Berlusconi stay until the end of the year.
"[He] has not disappeared. He has resigned," said Pierluigi Bersani, leader of Italy's biggest opposition group, the Democratic Party. Antonio Di Pietro, of the Italy of Values party, charged Berlusconi was "taking another month to try to buy a few [parliamentarians]".
After the budget measures are passed the president will begin consultations with the political groups on the way forward.
The euro strengthened and U.S. stocks rose for a second day after Berlusconi's announcement, bolstering optimism a new leader will better be able to tame the euro-region's second- biggest debt. The Standard & Poor's 500 Index rose 1.2 per cent in New York and the euro appreciated 0.5 percent to $1.3838 as the shared currency climbed against 10 of 16 major peers.
European stock markets just opened higher, as traders welcome last night's developments in Italy