A skilled businessman, Silvio Berlusconi always acts out of personal gain. His decision to precipitate a political crisis followed by a last-minute about-face was no exception.
Over the weekend Berlusconi announced that he would pull the plug on the government coalition he had craved being a member of after elections in February. He ordered his five ministers serving in Prime Minister Enrico Letta's administration to resign and get ready for new elections.
Opinion polls suggested that he had a chance of winning.
In preparation, Berlusconi resurrected his first political venture - Forza Italia, a brand that he said has more appeal than his current People of Freedom (PdL) party.
Trials and taxes
In a televised speech he said that Forza Italia would renew the fight to lower taxes, reform the justice system and tackle the advance of socialism.
The three pledges have been the leitmotif of Berlusconi's almost two decades in politics and are closely tied to each other - and to his self-interest.
Berlusconi has been the subject of dozens of prosecutions. He has managed to escape unscathed most of them but this year he was hit by two verdicts that were a hard blow to his personal freedom - and his pocket.
The media tycoon has been sentenced to four years in jail - reduced to one year - for tax fraud and in a separate trial was ordered to pay more than €500m (£418m) in damages via his business empire holding company, Fininvest, to a business rival in a corruption case.
The 77-year-old maverick claimed that charges against him were politically motivated and part of a leftist plan to turn Italy into a socialist country.
"Communist judges" or "red robes" wage war against him because he is the Italian champion of capitalism, he claimed. Thus the need of reforming the justice system.
Such rhetoric might be effective with older electors, who witnessed communist terrorists the Red Brigades and their neo-fascist counterparts planting bombs and waging terror during the Years of Lead in the late 60s and 70s but it is hardly an election winner.
Pleading for lower taxes in a country where they are as high as 54% of GDP may be a vote-winner, though, and Berlusconi exploits the issue in every electoral campaign.
In February, PdL won almost 30 percent of the vote thanks to a campaign focused on a pledge to scrap the unpopular IMU housing tax introduced by the Mario Monti government - with the support of Berlusconi's MPs.
Pull the plug
As a Senate vote on his expulsion from parliament as a criminal after his conviction for tax fraud loomed, taxes presented themselves as a perfect excuse to bring down the government.
Letta and the Democratic Party (PD) had turned down repeated requests from Berlusconi to vote against his expulsion in line with a law that bars anyone convicted to more than two years in prison from office.
The PD was also unwilling to shelter him from future court sentences. Berlusconi is facing seven years in jail on charges of underage prostitution and corruption in the so-called bunga-bunga trial.
Going to the polls again therefore was Berlusconi's best option.
A long-planned automatic rise in VAT to 22% was to enter in force this week and he seized the opportunity to rebel.
Rebellion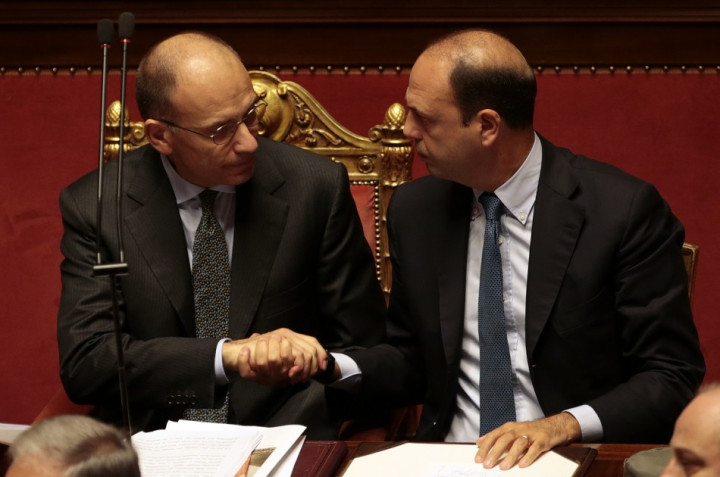 However, the move proved unpopular - especially within his own ranks. Many of his lieutenants, including the five resigning ministers, thought that telling cash-strapped Italians facing the worst economic crisis in decades to prepare for yet another election was suicidal.
Breakaways are quite unusual among Berlusconi's ranks. Those who leave are usually sent to political oblivion, as was the case of his former right-hand man, Gianfranco Fini.
The dissidents were labelled traitors and one PdL MP shouted in the Senate that they deserved to be beaten up.
But the breakaway group was too large to ignore. Enough PdL senators said they were ready to support the government for it to remain in charge.
If Berlusconi were to go ahead and vote against the movement he would have found himself at the head of a marginalised movement, with no elections in sight.
So he tried to limit the damage and told the Senate he had changed his mind. The former PM said that he believed the government could still accomplish its tasks of "pacifying" the political environment, reforming the justice system and lowering taxes.
The move gives him time to stich up the relationship with PdL dissidents while continuing to put pressure on the fragile government from the inside to negotiate a deal on his judicial troubles.
Berlusconi has a talent for making the best of a bad situation and although he suffered a political humiliation he is far from defeated.
His colourful persona, the playboy billionaire who rose from rags-to-riches, loves La Dolce Vita and has a gift for telling dirty jokes, has always been one of Berlusconi's key assets. It makes him a role model that, while not much admired abroad, is highly appreciated in Bella Italia.
PdL breakaway leaders would hardly win an election without the puppet-master of Italian politics, and the lifepan of Italian governments is famously short. So it is also in their interest to have Berlusconi on their side in a future vote.