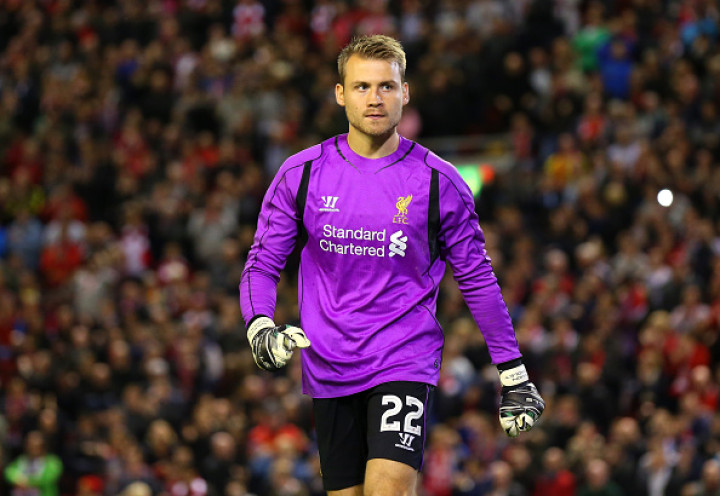 Liverpool keeper Simon Mignolet says he is not under pressure over the growing reports linking Victor Valdes to Anfield.
The Spain international left Barcelona after his contract expired at the end of the last season. The 32-year-old is currently recovering from a knee ligament injury and is without a club since leaving Nou Camp.
Mignolet, who arrived from Sunderland last summer had an impressive start to his Liverpool career. However, he has been questioned for his goalkeeping abilities during the current calendar year. This has seen Valdes being linked with a move to the Merseyside club in recent times.
Brendan Rodgers allowed Pepe Reina join Bayern Munich in the summer transfer window and the Belgium international has no competition after the departure of the Spaniard. However, Mignolet claims he is unconcerned with the reports suggesting that Valdes could join Liverpool next month.
"If I had to look into all the players who are linked with Liverpool, then there would be another team on the pitch! Every week there would be a different 11 playing," Mignolet told the Liverpool Echo.
"If you play for a big club, you have to accept that is the way it is, but I don't read anything into that. I am here to play my game and to do my best every week. I can only work hard in training, be positive and make sure I play well."
"The only pressure is what you put yourself under. What is pressure? Pressure is what is happening in Iraq at the moment where there is a war. That is pressure."
"We are football players and we are here to do our best. I can only do my best, work hard in training, be positive and confident and believe in myself. That is the only thing I can do," he added.
Liverpool have struggled after conceding too many goals this season and club legend Jamie Carragher has urged the former Sunderland stopper to "make big saves" to help the Reds challenge for silverware. Mignolet says Rodgers' side are working hard to fix the defensive crisis at Anfield.
"We're not happy with some of the goals we've conceded in recent games. But we've worked hard on things. We want to do better and that showed against Everton," the Liverpool keeper said.
"We worked on it during the week and I think it showed. Everyone was organised and spoke a lot with each other. Everyone was loud on the pitch and showed the authority that was asked of them. From that perspective, there were a lot of positives to take."