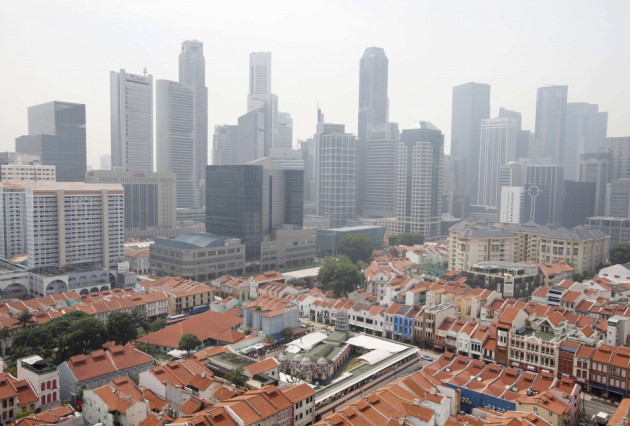 Home prices in Singapore rose for a fifth straight quarter, as suburban homes surged in values, amid the government's plans to cool the property market.
The island state's private residential property price index rose 0.8% to 214.9 points in the second quarter ended 30 June, following a 0.6% increase in the first quarter, according to preliminary estimates released by the Urban Redevelopment Authority (URA).
Prices of apartments in Singapore's core central region, including the posh Orchard Road district popular with foreign investors, have increased by 49% since the end of the global financial crisis in 2009.
Meanwhile, suburban home prices more than doubled from the previous three months, according to the URA.
Analysts say that the majority of property transactions in recent quarters have been in areas outside the central region, where activity remains muted.
The development comes after Singapore's central bank announced new rules to rein in the heating property market. The Monetary Authority of Singapore (MAS) implemented a Total Debt Servicing Ratio (TDSR) framework for all property loans to individuals, capping property buyers' monthly payments at 60% of income.
This policy is expected to remain in place over the long term to encourage prudent borrowing and strengthen underwriting standards. Nevertheless, analysts were of the opinion that the measures are introduced at the end of a multi-year cycle of low interest rates and very strong mortgage loan growth.
In addition, the MAS fine tuned the loan-to-value (LTV) policy to prevent the circumvention of the tighter LTV limits on second and subsequent loans introduced in January.
"This helps close a loophole for multi-property owners and should help reduce demand as LTV ratios are more stringent on the second and subsequent purchase of property," said Daniel Wilson, economist at ANZ Research.
National Development Minister Khaw Boon Wan said the tougher rules were aimed at property investors rather than potential home owners, the Straits Times newspaper reported earlier.
In January, the government initiated cooling measures including a lift in the stamp duty for home buyers by between 5 percentage points and 7 percentage points. As per the new rules, permanent residents in Singapore had to pay higher taxes when they buy their first home, while citizens will have the levy starting from their second home purchase.
In addition, Singapore plans to increase taxes for luxury home owners and investment properties.