Six years since Bahrain's revolution, Britain continues to back the monarchy's despotic rule
Theresa May has prioritised business dealings with the Gulf over rampant human rights abuses in Bahrain.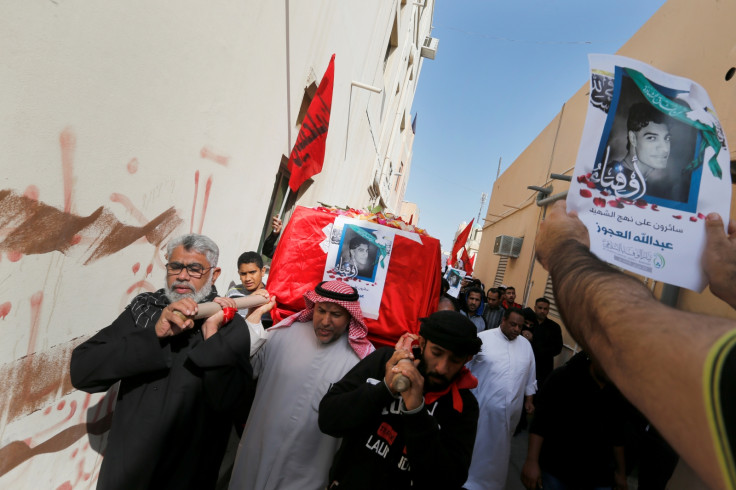 It is six years on from the Arab Spring. But for many of us, the protest movements which began have never ended. My country, Bahrain, was the third country to rise up in revolt in 2011, with our movement beginning on 14 February 2011. It was just days after the fall of Mubarak, and the 10-year anniversary of Bahrain's National Action Charter – a government manifesto which had become a list of broken promises.
Ours was the inconvenient uprising, the shout for democracy in oil monarchy heartlands. The poetry of revolution was everywhere, nothing expressing our feeling moreso than Tunisian poet Abu al-Qasim al-Shabbi's The Will to Live: "When the people will to live / Destiny must surely respond / Oppression shall then vanish / Fetters are certain to break".
The Bahraini government, a key British ally, responded with force. Saudi and Emirate soldiers entered the islands and a state of emergency was declared. Dozens died on the streets protesting, and many more were taken away and tortured. I was one them; beaten bloody in a midnight raid on sleeping protesters, imprisoned for six months for speaking to journalists, my family did not know if I was alive or dead.
Six years on, the repression continues, and the movement continues. I was released and claimed asylum in the UK, where I helped found the Bahrain Institute for Rights and Democracy. The government of Bahrain has doubled-down on its repression, executing torture victims, locking up all critics, activists and peaceful leaders, and employing masked police to shoot protesters on the streets. In many ways, the situation is worse now than in 2011; where once the state violence and rights violations were improvised and reactionary, now they are calculated actions, rooted now in new laws and institutions.
We are a nation that knows no surrender, we win or we die.
The UK government has been deeply involved in Bahrain, and there isn't part of Bahrain's violent security apparatus which does not have British fingerprints on it. Four UK-trained bodies, supposed to hold the police accountable, fail to be independent. Two of them helped clear the way for and then defend executions of three torture victims in January 2017. Another failed for two years to investigate the torture of Mohammad Ramadan, a man now at risk of imminent execution.
Yet the FCO insists that these British-trained bodies are independent. Recently my organisation the Bahrain Institute for Rights and Democracy together with Reprieve revealed that Bahraini police have received FCO-funded training in riot control and counter-IED methods. Not incidentally, several on death row or executed in Bahrain were tortured into confessing setting off bombs.
The UK's relationship with Bahrain is, in short, ever-present and extremely damaging. British rhetoric and training in Bahrain grants a veneer of legitimacy and rule of law to a country which is less tolerant of human rights and the will of its citizens than six years ago.
It is not strange for Britain to take a central role when speaking on Bahrain. Since 2010, the UK government has pursued its relationship with the Gulf. The ties developed over that time, which the assistance has been a major part of, culminated in King Hamad of Bahrain personally visiting 10 Downing Street to invite Theresa May to the Gulf Cooperation Council Leaders Summit. There she gave a speech: "I want to leave no-one in any doubt about the scale of my ambition or the extent of my determination to establish the strongest possible trading relationships between the UK and the Gulf."
Nowhere in that speech was human rights mentioned. Indeed, for Britain, Bahrain has just been a way to get a foot in the door. It was a speech which foreshadowed the prime minister's trip to Donald Trump's White House in search of post-Brexit partners. The Gulf, with its indiscriminate bombing campaign in Yemen, is the priority market for the UK's multibillion pound arms industry.
The UK's disregard to human rights has been made all the clearer in the Campaign Against the Arms Trade's case against the government's lucrative and ethically questionable arms deals with Saudi Arabia at the High Court.
Six years on, the will for democracy and human rights lives on as strongly in the hearts and minds of the people of Bahrain as in 2011. Authoritarian governments have maintained their grip on power, regrettably backed up, trained, and even engineered by the UK government.
In Bahrain, we still look to the democratic institutions in Britain as a model, and as it was a Tunisian poet al-Shabbi who helped express our Will To Live, it is Libya's defender against colonialism, Omar Mukhtar, who expressed that determination to see dictatorship beaten: "We are a nation that knows no surrender, we win or we die."
---
Sayed Ahmed Alwadaei is director of advocacy at the Bahrain Institute for Rights and Democracy.
---
© Copyright IBTimes 2023. All rights reserved.