A city hall in Bahrain has been set on fire by protesters as demonstrators took to the streets until the early hours of Monday morning (16 January) over the execution of three Shia prisoners.
Officials in the Gulf Kingdom said the fire at Northern City Hall appeared to be an act of arson after police and protestors clashed in the streets. Firefighters were eventually able to contain the blaze, al-Jazeera English reported.
As the protests wore on into the night the Bahraini police deployed tear gas to disperse the crowds as demonstrators threw fire bombs.
Hundreds of protestors took part in demonstrations on Sunday following the execution of three men accused of orchestrating a bomb attack in 2014, which killed two policemen and an Emirati. The executions by firing squad were the first in Bahrain in six years.
The deaths have reignited tensions between Bahrain's Sunni rulers and its majority Shia population. The Shia opposition, which was the driving force behind pro-democracy protests in the kingdom in 2011, has called the execution of Abbas al-Samea, 27, Sami Mushaima, 42, and Ali al-Singace, 21, politically motivated.
Seven other defendants accused of being involved in the 2014 attack received life imprisonment for their roles.
Amnesty International's Bahrain Deputy Director for Campaigns in Beirut, Samah Hadid said condemned the executions.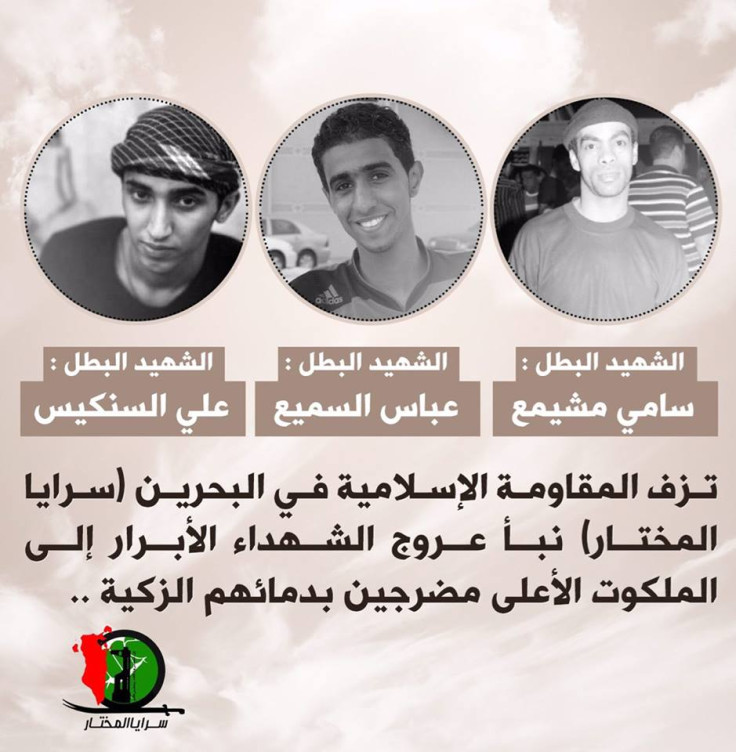 "This is a dark day for human rights in Bahrain. These executions – the first to be carried out since 2010 – are a deeply regressive step for a country whose authorities' have repeatedly trumpeted their commitment to human rights," she said.
"The death penalty is the ultimate cruel, inhuman and degrading punishment and the fact that this execution was carried out after an unfair trial and despite claims from the men that they were tortured in custody makes this news even more shocking. Instead of stepping up executions Bahrain's authorities should establish an immediate moratorium on executions and work on abolishing the death penalty once and for all," she added.