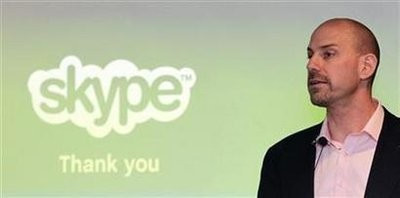 The free internet call service Skype has once again crashed, not allowing certain users to make calls or even log into their accounts.
On its Twitter feed Skype representatives wrote, "Some of you may have problems signing in to Skype and making calls. We're investigating and hope to have more details to share soon."
Hitting the U.K. at around noon, If the angry posts now legion on Twitter are to be believed, the problem has since spread worldwide.
Despite the lack of official word from the company, certain users have speculated that the problem may stem from an issue the service has with Windows Vista and Windows 7 -- this is yet to be proven.
The outage has since resulted in a wave of anti-Microsoft sentiment. Microsoft bought the company around two weeks ago for roughly $8.5 billion. As a part of the acquisition, Microsoft distributed a worldwide promise to consumers to keep the service alive and running.
Since the buyout Skype users have reported numerous intermittent problems with the service, leading to a steadily growing pocket of ill-feeling towards Microsoft from Skype customers.
Whether today's widespread outage will make this simmering discontent erupt into boiling hatred remains to be seen.
Skype is yet to release a formal statement describing the cause of the outage, or release an estimated time for service to resume.