A looming cut in the total amount a household can receive in benefits threatens to make families homeless by leaving many with a shortfall what they need to pay their rent, according to a body for the housing sector.
The Chartered Institute of Housing released a report suggesting 116,000 families will be affected –including around 319,000 children – and face a deficit between their income and outgoings which will leave many unable to pay the cost of keeping a roof over their head.
From 7 November, the benefits cap will drop from £26,000 to £23,000 in London and £20,000 outside the city as part of the government's programme to reduce welfare spending and encourage more people into work.
The figure is the most any one household can receive in welfare payments, such as housing benefit and jobseeker's allowance. Those working enough hours to qualify for tax credits will be exempt from the cap in a bid to incentivise work. Also exempt are those receiving disability benefits or carer's allowance.
The Institute's analysis shows some affected families will lose more than £100 a week from their income as a consequence of the cuts, which it says they will struggle to recoup by reducing household spending or finding sufficient employment.
Moreover, the institute said the worst effects of the current cap are largely contained within areas that have a high cost of housing, such as London and the South-east, or those with particularly large families. But the new cap will broaden this to include even those areas with relatively cheap housing, it warned, and those with smaller families.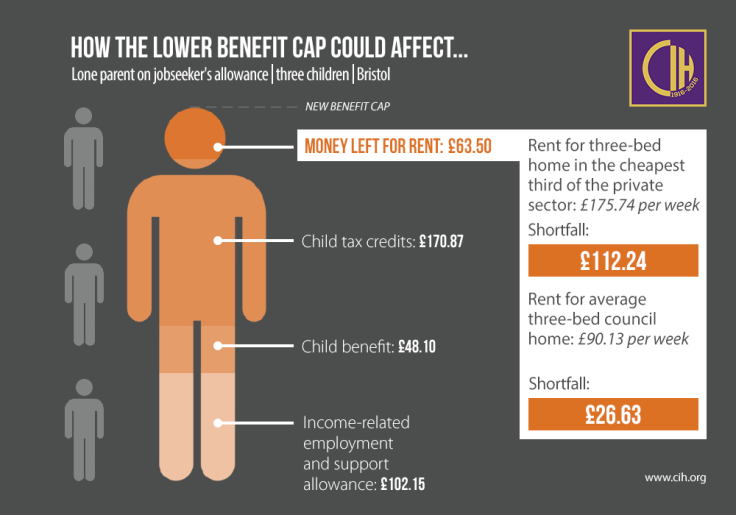 "The results of our research are extremely worrying," said Terrie Alafat CBE, chief executive of the Chartered Institute of Housing. "It shows that the reduction in total benefits is going to hit some of the most vulnerable families of all sizes across England, Scotland and Wales.
"These families will lose out when the cap comes into effect from 7 November and in many cases will straight away face a substantial gap between their rent and the help they receive to pay for their housing.
"Worryingly, our analysis shows many families could be one redundancy or a period of ill health away from being in this situation.
"We are seriously concerned that this could have a severe impact on these families, make housing in large sections of the country unaffordable and risk worsening what is already a growing homelessness problem."
The Department for Work and Pensions (DWP) estimates there will be 88,000 households affected by the benefit cap in 2016-17, 64,000 of them as a result of the reduction in November – though this is around 32,000 fewer than originally thought and a lower number than the Institute's.
The average reduction in benefits will be £60 a week, saving the government £65m in the first year. Those struggling with housing costs can apply for Discretionary Housing Payments from their local council, though there is no guarantee extra support will be approved.
An impact assessment published by the DWP in August 2016 said the benefit cap "has been shown to be successful with more households looking for and finding work".
"The long-term positive, intergenerational, effects from people moving into work are well-known and therefore, to encourage more households to move into work, a new lower, tiered cap has been designed to strengthen the work incentives for those on benefits," said the assessment.
"The benefit cap restores fairness to the system and the new limit will ensure the amount people on out-work-benefits can claim better reflects the circumstances of many working families in the country," said a spokesman for the DWP. "Even with the new cap, households can still receive benefits up to the equivalent salary of £25,000, or £29,000 in London."