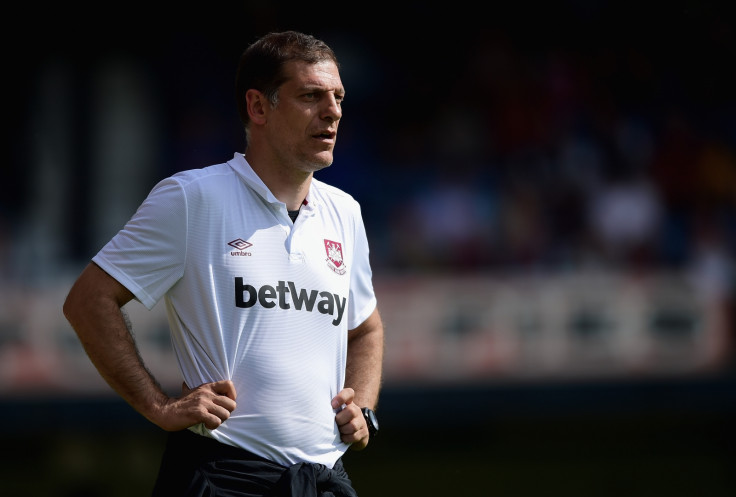 West Ham manager Slaven Bilic has expressed his delight after starting the Premier League campaign with a 2-0 victory at Arsenal, but admitted his side "stole the first goal of the game" and were fortunate to take the lead.
The Gunners controlled the ball in the first 30 minutes of the match but a header from Cheikhou Kouyate gave the Hammers the lead just before the break following Dimitri Payet's free-kick.
Mauro Zarate then sealed victory in the second half after being gifted the ball by the Gunners' defence.
"It is a great win for us, a great start for us and it's great for the club and for the fans especially because it's Arsenal. It's one of the biggest teams and one of the contenders and it's the first day and we did it in their stadium. I don't know how long it is, five years, ten years, but it's an absolutely amazing result," Bilic told West Ham's official club website.
"In the first half, to be fair I have no problem admitting that we stole the first goal. We deserved the goal, but we didn't deserve to be one up considering what was going on on the pitch. We were lucky.
"Maybe a draw at half-time would be fair because they were more aggressive and aware for the second ball, which is unacceptable. They can be better, some of their players, but more aggressive and more aware, no.
"At half-time I said some good things but I said 'OK, we are winning guys, but if we are going to be like that we have to improve'. The team performance in the second half was magnificent, from the goalkeeper to Modibo (Maiga) who came on for the last few minutes."
Meanwhile, Bilic explained his decision to hand 16-year-old Reece Oxford his first-team debut, claiming that he needed a player with his skills to block the quality of Arsenal midfielders Mesut Ozil, Aaron Ramsey and Santi Cazorla.
"To talk about Reece now is easy but I don't want to give lessons. We just put Reece in the team because I wanted to combine this game between him and Kevin Nolan. We needed someone to sit there and be a centre-half and not a centre-half, to take the long balls and be good in the air and sit and wait and be ready for Cazorla, Ozil or Ramsey in that space between the lines.
"We also wanted a player who can turn and make good passes and we picked him because he has got it all – he is tall, he is strong, he can run, he is quick, he can head a ball and is good in a duel, he can pass the ball and he can turn."