The Internet of Things revolution is finally upon us and a new report by Gartner estimates that in 2015 there will be 1.1 billion connected things being used in smart cities a figure which will rise dramatically to 9.7 billion by 2020.
The concept of a smart city refers to the idea of having sensors across the city in public infrastructure in order to monitor everything from traffic to velocity in parking and peak parking space occupancy, to which public streets are most travelled late at night and require lighting, and which don't.
What is a smart city?
A smart city is as an urban area where sensors have been implemented across public infrastructure in order to monitor traffic and usage of public services, such as lighting and parking spaces.
The contextual analysis of the real-time information gained from the sensors can help governments and companies in many sectors to make cities more sustainable and efficient, as well as being better able to cater to the needs of citizens living in the smart city.
The sensors wirelessly feedback information to computer servers where the information can be analysed to create useful information that helps governments to properly manage cities, and it can also be useful to commercial businesses too.
"Smart cities represent a great revenue opportunity for technology and services providers, but providers need to start to plan, engage and position their offerings now," Gartner research vice president Bettina Tratz-Ryan told IBTimes UK.
Last November Gartner published another report claiming that by 2020 the number of connected devices anywhere in the world would reach 25 billion, outnumbering humans three-to-one.
People don't like being monitored
One of the major issues which regulators need to address about smart cities is that people don't like being monitored all the time, whether it is in public or in their homes.
For example, in Bournemouth, local government secretly fitted RFID microchips to wheelie bins in 2007 in order for rubbish disposal trucks to calculate the weight of the bins, which led to widespread uproar from disgruntled residents, which also cost the Tories several seats in the borough during the next election.
The microchips were removed, but they are now back in wheelie bins following a better information campaign by the council in September 2014, where residents were assured that the chips were not being used to spy on them, but rather to identify each bin to each property in order to prevent bin thefts.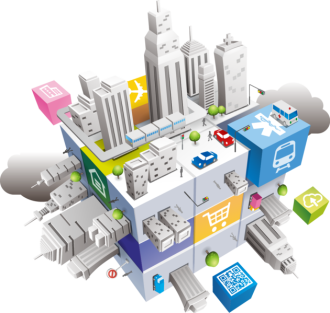 "People need to understand what 'smart', i.e. a connected or sensorised environment really means," said Tratz-Ryan. "A lot of government and commercial companies, they're going in and implementing without having a proper explanation. That's why in smart cities, the key is to understand the citizens and what their key requirements are."
Informing the public
Tratz-Ryan says that in Germany, trials for the smart city and devices connected to the Internet of Things are currently underway, including a trial for NFC tracker wristbands for elderly people, in order to make sure that the elderly are not injured and freezing somewhere in the cold without help in the event of an emergency.
"You can choose to be monitored by the NFC trackers and lots of older people are signing up for this monitoring service, as it's for safety and they chose to be monitored," she said.
She also mentioned another trial in the city of Copenhagen, where RFID is being used on street lamp posts, so that if anyone apart from the owner of a bicycle removes it when it is chained to a lamp post, then the RFID will on the lamp posts will track where the stolen bicycle goes in the city.
"That's why we need data sharing governance. You need to have a consensus. Smart cities want to drive citizen entrepreneurship. If you don't create that sense of growth, your Internet of Things will not help you to become a smart city," said Tratz-Ryan.
Gartner estimates that by 2020, there will be 9.7 billion connected things in smart cities, and 81% of those things will come from smart home and smart commercial building sensors.
Today, smart sensors are becoming most popular in the areas of motion detection, intelligent LED lighting and healthcare monitoring.