A new device that can transform anything from a mailbox to a snowmobile into an Internet of Things device has been developed, potentially transforming the way people interact with everyday objects.
The Thingsee One, designed by Finnish startup Haltian, was initially developed as a shipment tracking project by former Nokia employees, however it was soon realised that its potential went far beyond transport logistics.
What is the Internet of Things?
The Internet of Things is a term used to describe interconnected devices, systems and services that goes beyond machine-to-machine communications.
"The Internet of Things is the gold rush of the digital age," Ville Ylläsjärvi, co-founder of Haltian, told IBTimes UK. "You hear about new startups every day but there's a problem, and that's the hardware."
With an integrated accelerometer, thermometer, magnetometer, gyroscope, light and pressure sensors, and GPS - together with Wi-Fi, Bluetooth and cellular connectivity - means that the Thingsee One has "infinite applications", according to Ylläsjärvi.
A compact waterproof and shockproof design means that it has already been used on a variety of devices, despite not yet being officially launched. They include snowmobiles, hunting dogs, boats, mailboxes.
Its simple design is aimed at lowering the barriers of entry to the Internet of Things, allowing anyone to use it no matter what their technical background. It can be used with smartphones through a corresponding app, or with regular mobile phones through its cellular connectivity capabilities.
"There's different ways of using it and we encourage people to make their own use cases," Ylläsjärvi said. "Really everyone has a use case, so that's what we aim to enable."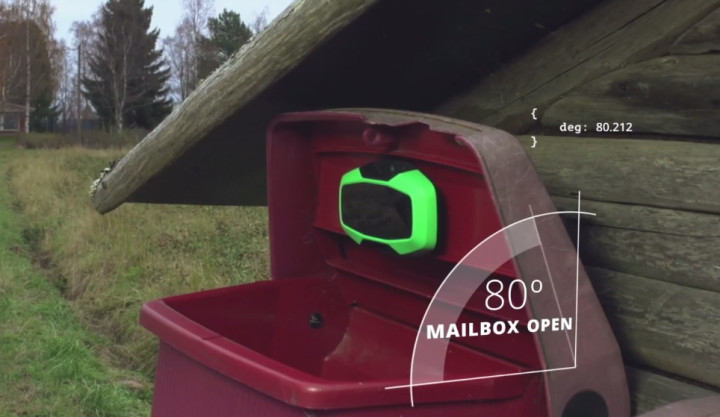 The rise of the Internet of Things
It is predicted that by 2020, Internet of Things devices will outnumber humans by more than three-to-one.
The study published earlier this month by Gartner forecast that there would be 25 billion internet-connected devices within the next six years, mostly in the form of previously passive objects such as street lights and rubbish bins.
"It is likely that within the next few years, some level of built-in intelligence and connectivity will be regarded as standard, and this will rapidly filter down to mainstream products and service," Gartner's research found.
Haltian is hoping to raise funds to further develop the Thingsee One through a crowd-funding campaign on Kickstarter. Ylläsjärvi and be at the tech startup conference Slush in Helsinki