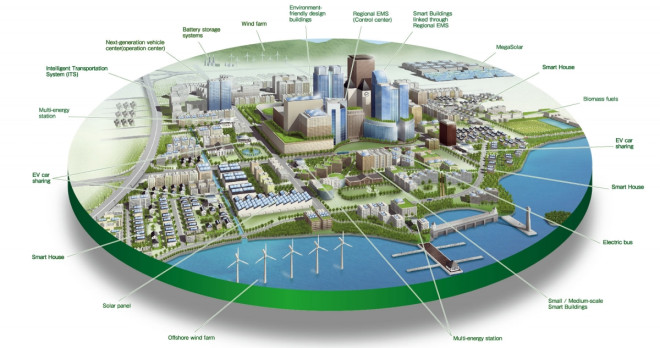 30% of inner-city traffic consists of motorists looking for a place to park. However, driving around town at a snail's pace always looking for that elusive parking spot will soon be a thing of the past for drivers near the Leaning Tower of Pisa.
The Italian city has partnered with Deutsche Telekom to connect its basic infrastructure using a range of Smart City solutions, including an app that directs drivers to a free parking bay.
Sensors on parking spaces recognise whether the bay is occupied or free and feed this information directly to the driver's app using machine to machine (M2M) communication.
Digitising the infrastructure
The advantages are that motorists no longer waste time looking for a parking space, use less fuel and the solution effectively reduces the volume of traffic, allowing the city to make better use of its parking facilities.
This pilot project is an example of how to make cities smart. Based on the guiding principle of the Smart City, authorities and businesses are digitising all areas of municipal infrastructure one after another, with citizens, the authorities and businesses benefiting in equal measure.
Smart City meets Internet of Things
Smart City solutions not only drive sustainable energy action plans forward; the example of Pisa illustrates a central trend of the Smart City: where the municipal infrastructure meets the Internet of Things.
Even seemingly banal places and objects such as parking spaces, street lighting and dustbins – even entire stadiums – are being digitised. They can thereby be addressed individually, and are accessible and controllable.
That has far-reaching economic and societal consequences. For one, new business models and services for the connected city take shape; for another, we interact with our surroundings in new ways, such as using a smartphone to look for somewhere to park.
The analysts at Machina Research expect the number of connections in the Smart City and Public Transport segment to increase from 72 million at the end of 2012 to 747 million in 2020. And sales revenue is forecast to increase from £5.05 billion to £17.56bn over this period.
Transparent urban areas
How do Smart City solutions influence life in the city? We will move around the city differently and interact with the municipal infrastructure differently. There will be fewer uncertainties and more transparency about what we can find and where we expect to find it.
Many examples are there to see already.
We used to ask people for directions - smartphones now show us the shortest route to our destination, be it on foot, by bicycle or by car.
We used to ask retailers whether a certain item was in stock - we now check their stock ourselves on the internet, even before setting foot in the store.
Evaluation of data
Data evaluation also has the promise of great potential. In addition to parking space management, cooperation between Pisa and Deutsche Telekom is aimed at evaluating traffic data. For five years, Pisa has relied on an IT solution for mobility management that has, amongst other things, fully digitised the management of residents' parking permits.
In place of printed permits, residents are issued with RFID chips, which notify the authorities via a web portal of any personal updates such as a change of address without having to apply for a new permit. And parking attendants use RFID readers to check whether a vehicle is parked properly.
The Smart City will not take shape overnight. It is like a strongly fluctuating puzzle to which new pieces are constantly added. Some pieces already interlock closely. They include sensor-assisted queries about places such as parking spaces, digitised public services and the smartphone as a guide around the digitised city.
Dr. Thomas Kiessling is chief product & innovation officer at Deutsche Telekom AG, and is responsible for the group-wide innovation strategy, product development and partnering as well as corporate research & development.