In Singapore there are almost as many smartphones as there are people. 90% of the population of the South-East Asian city-state owns a smartphone - a higher proportion than any other country in the world. But for Lee Hsien Loong, the Prime Minister of Singapore, this isn't enough.
Lee has tasked one government agency, the Infocomm Development Authority (IDA), with transforming Singapore into the world's first "smart nation" and bring about a vision referred to as E3A: "Connecting everyone to everything, everywhere, all the time."
Complete connectivity is seen as the basis for revolutionising the way every aspect of society operates - from healthcare to the environment - in order to improve the overall quality of life for Singapore's citizens.
Speaking to IBTimes UK at the launch of the recent Smart Nation Innovations conference in Singapore, Lee said that one of the most immediate issues to overcome was that of transport.
"On an island of this size, with such a dense population, it is very important to consider how best to set up the infrastructure in the most efficient way," Lee said. "I'm looking forward to seeing what innovative solutions we come up with and then witnessing them be implemented."
'All the raw ingredients'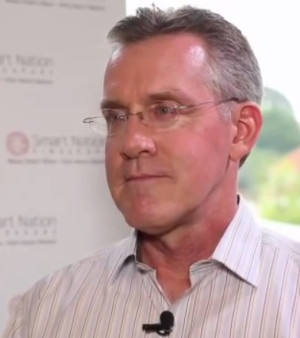 Heading IDA is Steve Leonard, a US citizen by birth who has become the most powerful foreign national within Singapore's government. Despite the scale of the project, Leonard's enthusiasm is buoyed by his ultimate goal of creating a type of 21<sup>st Century utopia for the island's five million inhabitants. Leonard claims Singapore is in a unique position.
"It's a unique opportunity because we really do believe that we have a position that nobody else can replicate," Leonard told IBTimes UK, citing the large amounts of venture capital and startups in Singapore, billions of dollars worth of government investment into the project, and the fact that leading universities and multinational corporations have Asian hubs in the country.
"So we have all the raw ingredients," Leonard said, "then that's capped off by a single layer of government, which means when the government would like to see something happen, we're only a few phone calls or a meeting away from making that possible.
"No other country has that same type of ingredient mix."
An end to traffic jams?
Despite grand ideas of creating a smart nation, there is no actual defined blueprint or universally agreed definition for what a smart nation, or even a smart city, actually is.
"No one knows (what a smart city is), it's one of those wonderful terms that everyone's throwing around so you're free to make up your own definition," Mike Lynch, co-founder of Autonomy, told IBTimes UK at Singapore's recent Founders Forum conference. "My definition is it's about using information to optimise the operations of a whole city."
According to Lynch, one example of a fully-functioning smart city would be a complete absence of traffic jams.
To reach this benchmark new technologies like autonomous vehicles would need to be introduced, yet for this to happen major reforms to current laws and regulations would need to take place. This is where Singapore's city-state status becomes its trump card.
"If you try and do this anywhere else in the world at the moment you've got two administrations to deal with: the national one and the city one," Lynch said.
"If you imagine London, just the bureaucratic nightmare of all the different local authorities, local government, central government, no matter how good an idea is, that's the treacle that stops things happening. It gums it all up."
'A shared global set of challenges'
The idea of everyone being connected to everything all the time might sound like a dystopian nightmare for some, but Leonard and Hsien Loong believe it is key to creating a healthy and happy society.
Whether or not the citizens of Singapore have much of a say in the matter is another question. The country's autocratic style of government has faced criticism in the past for stifling freedom, however it has also been recognised for overseeing Singapore's remarkable economic growth over the last 50 years. If the ambitious smart nation vision is ever to be realised, it will play a key role.
"Our advantage is that we are compact, we have a single level of government, we can decide efficiently, we can scale up successful experiments and pilots without any delay," Lee said in a speech in April.
"Also we are able to take a long term view and see through big transformations to the end until they bear fruit for our citizens."
There are legitimate issues that Singaporeans might have when faced with the prospect of living in Lee's new nation, most notably those of privacy and security. For Leonard, this is the biggest challenge currently faced.
When asked what the biggest hurdle is in implementing new technologies, it isn't laws or regulation, it's mindset.
"We have to be prepared that sometimes there are going to be people that are less comfortable with technology or perhaps a bit more concerned about how this data will be used," Leonard said. "These are important issues and we don't mean to say that we won't take them into account because that's critical.
"But we need to continue to move ahead, because the problems are not going to go away. The problems that we're working with are the same problems every country is working with: Density, ageing, resource scarcity.
"What we're trying to achieve is important to every country in the world, so if we succeed we'll be able to help cities all over the place in the future," Leonard said. "But we believe our vision of a smart nation is unique. Even if another country wants to do it, they may have the appetite but they don't have the ingredients.
"But it's important not to get too far ahead of ourselves. We don't want to go so far into the future that we fall off the cliff, but we want to be right there at the edge."