When you're told that Apple, Samsung, Microsoft and Google are all poised to enter a new market, you'd bet your house on it being a sure-fire route to success - but you'd be wrong, because as all four prepare to launch smartwatches over the next 12 to 18 months, a walk down memory lane reveals a battlefield littered with failed attempts from some of the biggest names in the business.
1972 - First digital watch
The first digital watch was the Hamilton Pulsar P1 of 1972, but the first truly smart watch capable of doing more than telling the date and time didn't arrive until the early 1980s, when Japanese watchmaker Seiko began to experiment with ways of storing data on digital watches.
1983 - Seiko Data 2000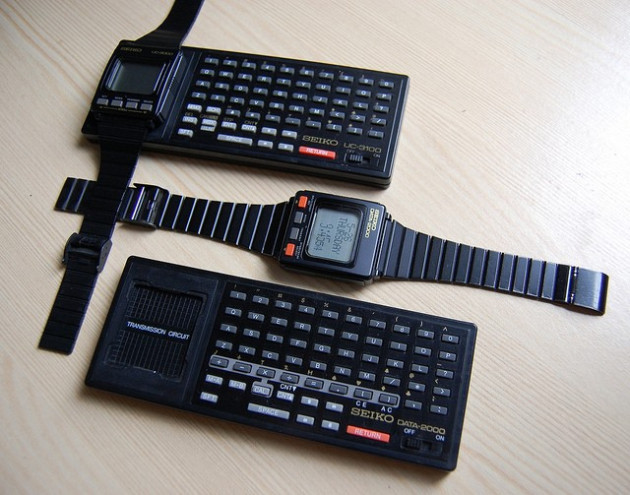 The Seiko Data 2000 and upgraded UC-2000 of 1983 and 1984 were watches which could display text transferred to them from a keyboard dock via magnetic pulses; up to 2,000 characters could be stored on the watch and viewed at any time on its 4 x 10 character display.
Later in 1984, Seiko introduced the RC-1000, which also stored text but this time could be plugged into a number of computers with an included cable; attach the watch to your Commodore C64 and transmit your to-do list, phone numbers or other important documents to read later.
1980s - Casio Calculator watch
Despite first appearing in the 1970s, it wasn't until the mid-80s that calculator watches became the must-have gadget, gaining admiration in the school playground and hatred in the maths exams for decades to come, Casio still sells a range of these watches today under the 30-year-old Databank name.
2000 - IBM WatchPad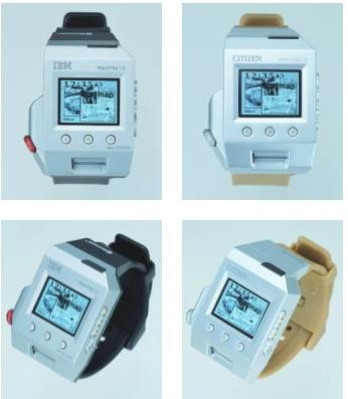 But storing text and doing sums doesn't make a smartwatch, and it wasn't until 2000 that things started to get more interesting when IBM teamed up with Citizen to create the WatchPad, a watch running the Linux operating system.
The WatchPad ran Linux on a 32-bit ARM processor with a maximum speed of 74MHz, eight megabytes of RAM and 16 megabytes of flash memory, along with a speaker and microphone.
There was a monochrome LCD display with fingerprint scanner for security and an accelerator to detect the wearer's hand movements. The WatchPad even had Bluetooth, which it could use to communicate with computers and use in unison with the fingerprint scanner to replace entering PC passwords with a touch of your finger.
IBM was dreaming big with the WatchPad, and with Bluetooth it saw a future of being able to check into hotels, airports and hospitals by simply walking into a Bluetooth hotspot (this was a time before Wi-Fi was commonplace), and even "cashless shopping and dining."
IBM wanted WatchPad to be the personal assistant Apple, Samsung and Google no doubt want their next generation of smartwatches to be, and it was believed that in the future the watch would provide bus and train timetables when the watch detected the relevant Bluetooth hotspot, along with personalised advertisements and shopping suggestions based on previous purchases.
With hindsight, IBM undeniably had worked out the blueprint for smartwatches and a connected society of the future, but was hampered by size constraints and performance limitations, and so the WatchPad never went on sale.
2003 - Palm Fossil Wrist PDA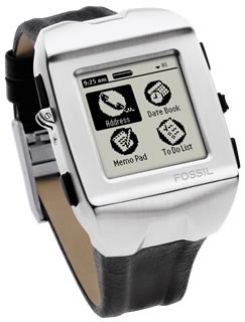 Not to be outdone by IBM, Palm wanted a piece of the smartwatch action, and in 2003 came up with the Wrist PDA in partnership with watchmaker Fossil. Unfortunately, a number of setbacks with the tiny touchscreen meant the device wasn't ready for sale until 2005, by which time its $250 price made it a tough sell.
Nevertheless, the resulting watch had a 160 x 160 pixel monochrome touchscreen with 8MB of RAM, and a 66MHz Motorola processor.
Running the same Palm OS as the company's handheld digital organisers, the Wrist PDA could sync its contents with a PC in exactly the same way via mini USB or an infrared port; it even supported most of Palms 'graffiti' handwriting recognition system and worked with a tiny stylus stored in the clasp mechanism.
Much like the Pebble smartwatch of 2012, the Palm Wrist PDA had a range of watch faces for the user to choose from, and the lithium ion battery would last up to two days between charges with the time constantly displayed, or more than a week in standby mode, where nothing is displayed between uses.
Running the same operating system as Palm PDAs of the time, the watch could play simple games like Blackjack and a whole host of applications could be run on it, but as with so many smartwatches it was thwarted by a chunky design, low screen resolution and a lack of wireless connectivity. The dream of a computer on your wrist was making progress, but Palm was consigned to join the growing list of companies who couldn't get the smartwatch off the ground.
2004 - Microsoft SPOT
Smart Personal Object Technology or SPOT was developed by Microsoft to personalise household electronics and other everyday devices by making them 'smart' - think of it as the Internet of Things, only a decade earlier.
SPOT used MSN Direct networks, which delivered signals across the US and Canada through the FM radio broadcast signals and was available in around 100 metropolitan areas. The service cost $59 a year when it was launched in 2004, with compatible smartwatches from Fossil and Suunto, followed later by more upmarket offerings from Tissot and Swatch.
SPOT watches received information such as news reports and detailed weather forecasts issued by Oregon Scientific - and Tissot tried to bring the technology to premium wristwear, charging up to $800 for its compatible watches - but the initiative lasted just four years.
In 2008, Microsoft pulled the plug on SPOT after manufacturers had already cancelled production of compatible watches. The SPOT network was left running for four more years, before being turned off for good on 1 January, 2012.
Yet again, a major technology company with substantial resources was unable to make a viable business model from smartwatches.
2009 - Samsung S9110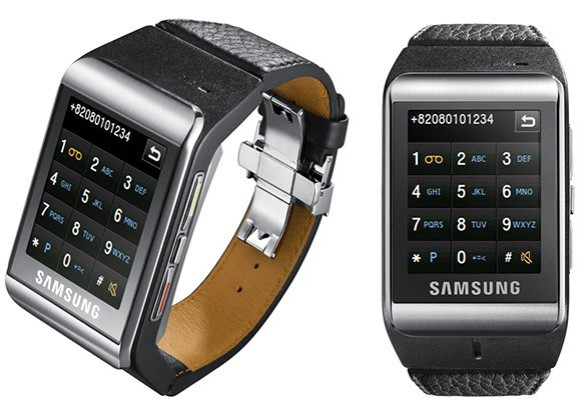 A day before it announces Galaxy Gear seems like a good time to remind Samsung that it too has been here before, first with the SPH-WP10 in 1999 and then the S9110 ten years later.
The SPH-WP10 was large and chunky by today's standards and the battery was good for just 90 minutes of talk time, although it boasted voice activated dialling, a phone directory, vibration to signal incoming calls, and a basic LCD display. Samsung expected users to hold the watch up to their face to make a call, so it's not hard to see why it didn't catch on.
Announced in July, 2009, the S9110 (above) was a smartwatch which accepted a micro SIM card and could function as a regular mobile phone, unlike the Galaxy Gear, which is expected to act as a companion device connected via Bluetooth.
The S9110 had a 1.76in colour display with a resolution of 176 x 220 pixels, Bluetooth for connecting to a handsfree kit, an MP3 player, and the ability to send emails and text messages from its tiny touchscreen keyboard; the device cost €450 but - this probably won't come as a shock - the watch failed to sell and was quietly discontinued.
Four years on, and Samsung is about to try again with the Galaxy Gear. Will it work? History says even the most high-profile tech company will struggle to make a wrist-worn computer appeal to the mass market.