Glenn Greenwald, the journalist who published documents leaked to him by NSA whistleblower Edward Snowden, has vowed to disclose more about the UK's spy system, following the nine-hour detention of his partner at Heathrow airport.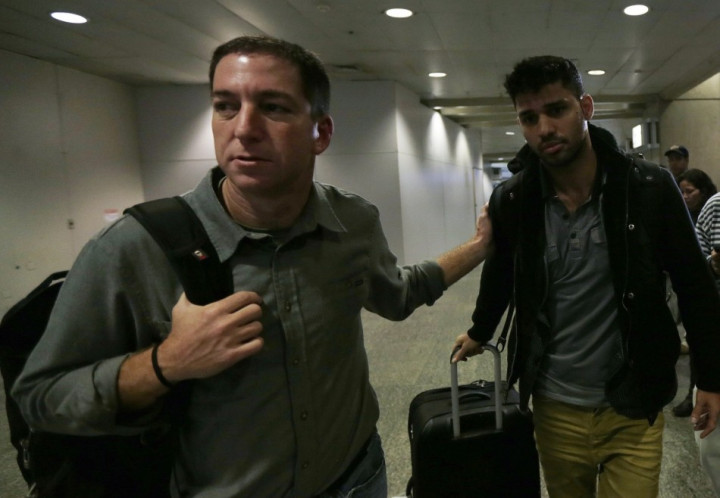 Brazilian citizen David Miranda, 28, said he was questioned by British authorities using anti-terrorism laws for nine hours on 18 August; he was released without charge, but had to surrender his laptop, mobile phone, games console, DVDs and memory sticks.
Following his release Miranda flew home to Brazil and met Greenwald at Rio de Janeiro international airport, where the reporter spoke to waiting journalists in Portuguese.
"I will be far more aggressive in my reporting from now. I am going to publish many more documents. I am going to publish things on England too. I have many documents on England's spy system. I think they will be sorry for what they did."
Greenwald added: "They wanted to intimidate our journalism, to show that they have power and will not remain passive but will attack us more intensely if we continue publishing their secrets."
Miranda told reporters that six British agents had questioned him continuously about all aspects of his life during his detention in a room at Heathrow airport.
Direct attack
The Brazilian was returning from a trip to Berlin via Heathrow when he was stopped by officers and informed that he was being questioned under Schedule 7 of the Terrorism Act 2000, which applies only at airports, ports and border areas, allowing officers to stop, search, question and detain individuals for up to nine hours without arrest.
Nick Pickles of campaign group Big Brother Watch said Miranda's detention was "a direct attack on freedom of the press and a chilling reminder that our anti-terror laws are in desperate need of reform."
Amnesty International branded the interrogation "unlawful and inexcusable" saying the Terrorism legislation was "abused for petty, vindictive reasons".
Questioning
According to government figures, 97% of detentions under Schedule 7 last under one hour, one in 2,000 last more than six hours, and fewer than three people in every 10,000 are examined under the act as they pass through UK borders.
Speaking to the BBC, Greenwald said the British authorities "never asked [Miranda] a single question at all about terrorism or anything relating to a terrorist organisation. They spent the entire day asking about the reporting I was doing and other Guardian journalists were doing on the NSA stories."
Greenwald began publishing reports of mass surveillance by the US National Security Agency in the Guardian on 5 June, and since then coverage has spread worldwide and included Britain's GCHQ, which was revealed to have received more than £100 million from the NSA over the last three years.
The Guardian, which paid for Miranda's flights, said it is "dismayed" at his detention, adding it is "urgently seeking clarification from the British authorities."