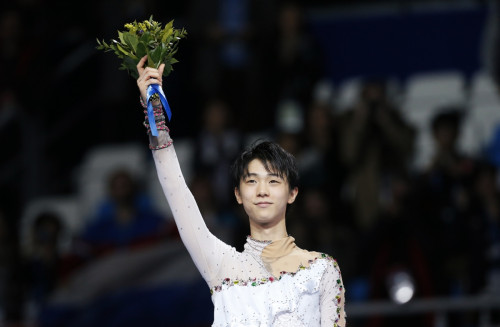 Yuzuru Hanyu has become the first Japanese male to win an Olympic figure skating gold.
The 19-year-old Hanyu claimed his medal at the Iceberg Skating Palace at the 2014 Sochi Olympics being held in Russia. It was also Japan's first title of the 2014 Winter Games.
The Japanese teenager from Sendai took his first major title ahead of three-time world champion, Patrick Chan (silver) of Canada, after the men's free skating final. Hanyu scored 178.64 points. Denis Ten took a first Olympic figure skating bronze for Kazakhstan.
Hanyu also set a world record score in the men's short programme. However, his historic victory came after he fell twice.
"I thought the gold medal was not in my hands. I was so nervous and I was so tired," Hanyu told reporters after his win. He said that he was very sad about his fall and didn't think he would win.
Yuzuru Hanyu began skating at the age of four in 1998, following his elder sister into the game. He trains in Toronto. During the March 2011 earthquake in Japan, Hanyu had a narrow escape.
"He was training in the Miyagi area of Japan when it was hit by an earthquake in 2011. He escaped the rink without even taking his skates off, and the rink was eventually destroyed in the quake. His home was damaged, and he had to spend four days in an emergency evacuation centre," according to a post about the skate on the Sochi 2014 official website reads.
Take a look at Hanyu skating at Winter Olympic Games in Sochi in pictures below.