Is getting up off the sofa to go out just too much of a chore? Well, help is speeding your way, with the record-breaking 101 mph sofa, complete with coffee table and fruit bowl. And a 1.4-litre Suzuki superbike engine.
The super sofa, piloted by Glenn Suter, smashed the world speed record for motor-powered living room furniture, previously set at 92 mph by Englishman Marek Turowski in 2007, at Camden airport near Sydney.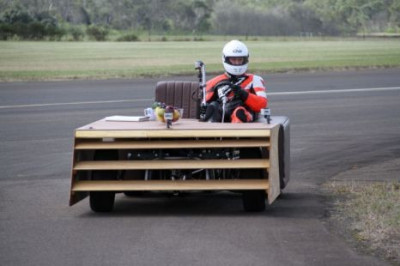 "I'm absolutely stoked to have been able to hit world record speeds with our couch. I could feel the sheer power of the motor under the lounge as I was driving it down the runway. And it's a pretty great feeling," Suter said.
Powered by a 106 horsepower engine from a Suzuki GSX 1400, the sofa is attached to a large table, complete with bowl of fruit and a cup of coffee.
The fast furniture was built by Paul Kinnon for Australian drinks company Ice Break. Kinnon said: "It's the oddest vehicle we've ever built. With race cars, you can use the aerodynamic body kit but with the couch it was a matter of just doing what we could. We tried to break the airflow with the coffee table."