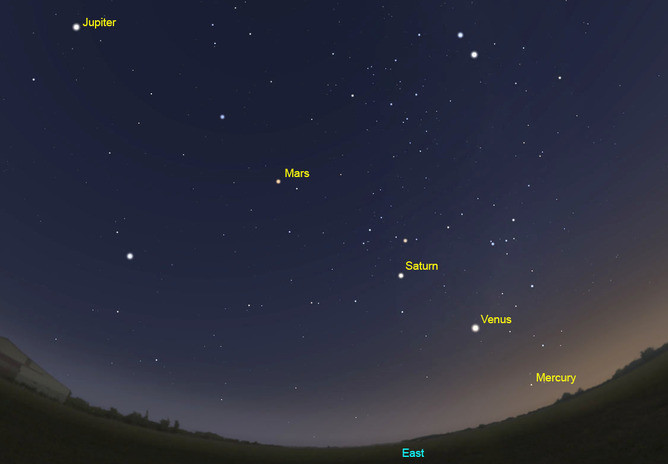 For the first time in more than a decade, the five brightest planets in our solar system are lining up in order, making it easy to see them all together with the naked eye. The formation has been visible since 20 January 2016, but as we move into February the planets are expected to become clearer, and the best day to view the celestial objects together is to be 5 February.
If you haven't already managed to catch a glimpse of the astronomic show, you still have time. The planets – Mercury, Venus, Saturn, Mars and Jupiter – are to be visible in a straight line until 20 February. However, for your best chance to see the planets coming together in the sky, make sure you look up on Friday 5 February as the planets become their brightest and clearest yet.
The planets become brighter to the naked eye as the Earth faces the outer edge of the galaxy, a phenomenon not uncommon in the winter months. On 5 February, the Earth will be facing away from the centre of the galaxy perfectly, therefore all five planets are to be clearly visible in a synchronised line. Assuming the skies are clear of clouds – according to BBC Weather, the UK can currently expect light clouds – the best time to see the show would be roughly 06.55 GMT. The moon has also joined the other five planets since the last week of January. It is expected to be visible with the other planets until around 8 February before disappearing as it enters a new cycle of phases – known as a 'new moon'.
To enjoy the show, the best approach is to first locate the moon. Point your arm up into the sky towards it, and then theoretically, all five of the planets should be along the invisible line that your arm makes, from the moon right down to the horizon. Venus and Jupiter would be the brightest of the planets, closely followed by Mars. Mercury would be the most difficult to spot as it is to appear very close to the horizon and light could obscure it.
Do not give up if you cannot spot it right away: this event is not due to happen again until October 2018, so make it count!