Solitaire returns to the Microsoft fold with the latest build of Windows 10 just in time to celebrate its 25 anniversary.
Microsoft has pushed out the latest build of Windows 10 Technical Preview, bringing a multitude of new features including updated mail and calendar apps, a resizable start menu and the ability to boot directly to tablet mode.
However, for those who like a bit of nostalgia, it will be the reintroduction of Solitaire as a pre-installed app that will be the most important addition.
Solitaire was first pre-installed on Windows 3.0 in May, 1990 and was present in all builds of Microsoft's market leading software until the introduction of Windows 8 when the company decided to offer it only as an app available through the Windows Store.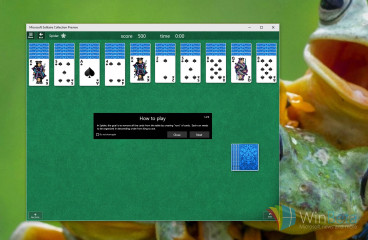 Microsoft has clearly seen the error of its ways, however, and included the addictive card game – as the Microsoft Solitaire Collection – in the latest build of Windows 10 and will offer it to all users in the final version of the redesigned software when it is released this summer.
New features
The preview version of the app will not save any user data when it is closed but you will be able to try out the various game modes available (Klondike, Spider, FreeCell, Pyramid, and TriPeaks) as well as take part in daily challenges, unlock achievements and see the various themes you can select from.
If Solitaire is not your thing, then Windows 10 Build 10061 offers a lot of significant updates from the previous version of the Technical Preview.
Here are Microsoft's release notes:
New Mail and Calendar apps: These new apps bring improved performance and a familiar three-pane email UI, with a toggle to quickly move between your email and calendar. Mail includes customisable Swipe Gestures, letting you swipe right or left to take actions like delete, flag, move or mark as read/unread. Also check out the new email authoring experience. Mail leverages the familiar and rich capability of Word to that allows you to easily insert tables, add pictures and use bullets and colour to your text. Both the new Mail and Calendar apps support Office 365, Exchange, Outlook.com, Gmail, IMAP, POP and other popular accounts.
Start, Taskbar, and Action Centre improvements: This build introduces the new black system theme across the Start menu, Taskbar, and Action Centre. The Start menu and Taskbar now have transparency and you can also resize the Start menu. We've also enabled support for AutoColor which pulls the primary colour from your desktop background. In the Settings app under Personalisation, you can adjust the colour of Start, Taskbar, and Action Centre as well as transparency. Check these settings out and let us know what you think. And based on your feedback, we have moved the power button to the bottom left from the top right of the Start menu to make it more accessible.
Continuum improvements: The Taskbar is now more optimised for tablets. Entering Tablet Mode causes the Start button, Cortana, and the Task View buttons to all grow in size and space out to be more touchable. Items in the Notification area also widen to improve touchability. Also, pinned and running apps are removed by default to reduce clutter and simplify the experience. Start and Task View remain available for launching and switching. If you still prefer to see apps on your task bar, there is an option under Tablet Mode in Settings to turn them back on. We also now offer a setting to boot directly into Tablet Mode. For tablets under 10 inches, this is the default behaviour.
Task View improvements: We've made several visual updates to Task View. We've refined the window icons, the close buttons, and the thumbnails. These improvements also apply to Alt+Tab and Snap Assist. Task View gets a new icon on the Taskbar too.
Virtual Desktop improvements: You can create as many Virtual Desktops as you'd like! When you hit the limit of your display, a new overflow experience now lets you access any one of your desktops. Also, don't forget that we are still eager to hear your feedback to determine the default behaviour of the Taskbar across desktops.
Windows 10 launch
Microsoft has said that it will launch Windows 10 this summer but earlier this week, the CEO of chip maker AMD accidentally gave an even more specific date saying that Windows 10 would launch at the end of July.
Windows 10 is a radical overhaul of Microsoft's market leading software and will run on everything from desktop computers, to laptops, tablets, smartphones, servers and even Internet of Things devices.
The company also released a new version of its Technical Preview for phones this week ahead of the company's Build developer conference in San Francisco which kicks off on 29 April.