Some men just got together to block access to safe abortions for millions of women
The global gag rule is one of the first executive orders signed by Donald Trump.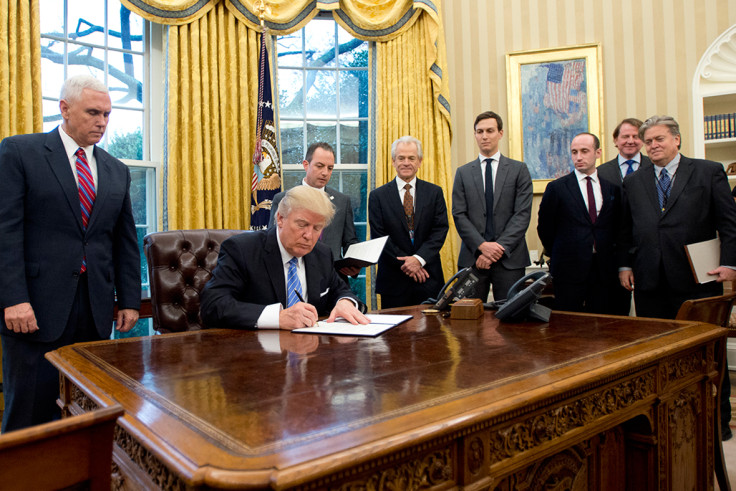 Donald Trump has signed an executive order which will impact women around the world by limiting their access to abortion services, while surrounded by men.
Just days after millions of women marched worldwide in protest of Trump, the president reinstated the Mexico City policy, which blocks US funding to international non-governmental organisations that provide abortion or family planning services.
Otherwise known as the global gag rule, it was first implemented by Ronald Reagan in 1984 at a United National conference in Mexico City. It was repealed under Bill Clinton, reinstated by George W Bush and repealed once again by Barack Obama.
Essentially, it forces organisation that provide terminations to either stop providing abortions or lose funding from the US government – even if the funding supports other life-saving medical services.
Marie Stopes International states the reintroduction of the Mexico City policy will negatively impact women's health as well as the "longer-term economic prospects and stability of the world's poorest countries".
The organisation also warns more women in developing countries will be at risk of disability of death due to unsafe abortions or the loss of medical care. Every year, about 47,000 women die from unsafe abortions around the world.
None of the money provided by the US for international assistance for reproductive health is spent on carrying out abortions because this is banned under the Helms amendment.
First enacted in 1973, the amendment states: "No foreign assistance funds may be used to pay for the performance of abortion as a method of family planning or to motivate or coerce any person to practice abortions."
© Copyright IBTimes 2023. All rights reserved.