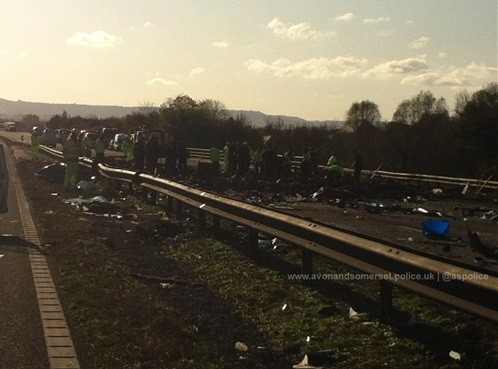 The Avon and Somerset police are investigating reports by eye-witnesses of black smoke on the carriageway. It is believed that the smoke could be one of the reasons behind what is one of the worst road crashes in the United Kingdom's history.
During the pile-up involving 34 vehicles on Friday, seven people were killed and a further 51 injured. The police had shut down the M5 motorway (where the accident took place) after the incident. On Sunday though, the Somerset section (both north and southbound, between Junctions 24 and 25) was re-opened at 9 p.m. Officials have confirmed that no more fatalities have been reported and they have now begun the task of identifying the bodies.
"Over the last 40 hours emergency service crews, highways and other partners have been working tirelessly at the scene. This scene has now been cleared of all 34 vehicles involved and the bodies of seven people who tragically lost their lives have been recovered. I would like to make clear that despite our worst fears there have been no other fatalities," said Anthony Bangham, Incident Commander, Assistant Chief Constable.
"The families of those who lost their lives are being supported by specially trained family liaison officers who will continue to work with them as long as they are needed. We ask the media to allow them to grieve and deal with this tragic news. Formal identification will need to take place and this will of course take time," he added.
The police also said that the task of repairing the highway is in progress but it is hampered by damages suffered.
"This (the M5 motorway crash) remains a large scale investigation with many emergency service personnel continuing to work at the scene with highways that are resurfacing the road and repair safety barriers. This incident caused a significant amount of damage to the highway; a stretch of 40 meters of road was damaged by fuel spillage from vehicles and a stretch of 60 meters was damaged by intense fire. It is anticipated that it will take around 4-5 hours to complete this work," said Bangham.
Meanwhile, diversions via the A38 remain in place. The traffic, at present, is being diverted via North Petherton.
"Diversions via the A38 remain in place and as a result there are long delays. I would advise motorists only to make journeys if they are essential until the carriageway is open in both directions," said Bangham.