The first teaser trailer of Sons of Anarchy Season 7, which is set to premiere in September, has been released.
The 20-second clip shows an angry Jax riding on an empty night road as his face turns into a skull shadow and then back to himself again.
The first teaser trailer promises an explosive final series as claimed before by show runner Kurt Sutter.
Fans are eager to know what will happen to Jax after the shocking finale of season 6, in which his mother and SAMCRO matriarch Gemma kills Tara, Jax's beloved wife.
Hollywood Life suspects that Jax may risk his life in the upcoming series and may meet his fate by the end of FX's motorcycle drama.
The final season of Kurt Sutter's popular biker drama is under production and the first episode will be titled as 'The Black Widower.'
The premiere episode may focus on Jax mourning the death of his childhood love and wife Tara.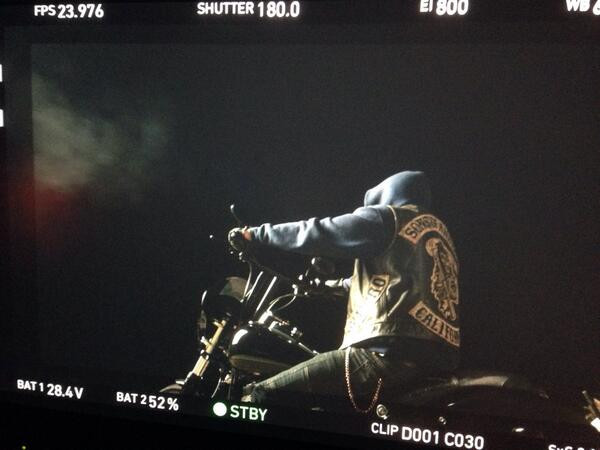 Fans also speculate that the season seven may begin with a probe into Tara Knowles-Teller's murder and cops may grow suspicious of Jax for killing his wife.
This may force him to ride solo in order to avoid police detention and to nab the real killer.
Annabeth Gish, the latest cast to join the Charming town police as law enforcement officer Althea Jarry, is expected to work with the SAMCRO gang to maintain peace in the fan favourite biker series.
Althea Jarry will play an important role in Jax's life and can lend a helping hand in catching Tara's killer.
Sons of Anarchy has won millions of hearts for its crisp and engaging storyline and perfect cast selection.
But it appears the recent Emmy Award snub has irked the show creator who revealed his displeasure on Twitter.
Writing a little missive about SOA's Emmy snub for @NikkiFinke tomorrow. Guessing it'll be at least a 4-cunter, with a touch of "blow me".

— kurt sutter (@sutterink) July 10, 2014