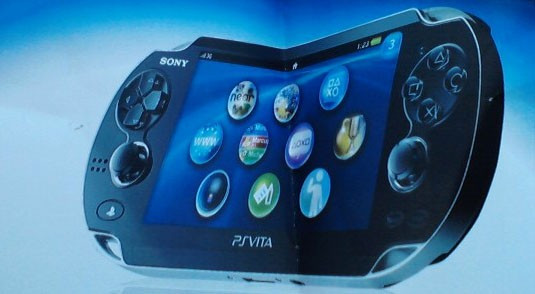 Last night as a part of its contribution to this year's E3 expo, not only did Sony announce the renaming of its portable NGP console, it also released the handheld's tech specs.
Now officially titled the PlayStation Vita, in its press conference Sony released a host of details about the devices tech spec and price. Unfortunately it failed to release any information pertaining to its release date outside of a vague 2011 holiday season window.
In regard to price, the company will offer two versions. A Wi-Fi only Vita will set consumers back $249 while a Wi-Fi and 3G enabled unit will go for $299. The company also revealed that the device's U.S. 3G coverage will be provided by AT&T -- it did not release details on what price plans would be offered.
The revelation means that the PlayStation Vita will be the first handheld gaming device to house full 3G cellular communications tech.
Past this rather significant news, Sony representatives also revealed several interesting details about the device's design, power and spec.
To the relief of many PSP owners, the Vita will house two dual analogue sticks -- real ones, not the touch-pad style ones used on the Xperia play.
Additionally, as well as all the other standard PlayStation buttons, the handheld will also house a new multi-touch capacitive touch screen and rear touch-pad. The Vita will also include motion controls and GPS functionality.
The conference also revealed that the company's current UMD format of shifting games is to be ditched. Games for the Vita will instead be sold and distributed via small memory-based flash cards and the recently reactivated PlayStation Store.
The hardware stats for the Vita are pretty similar to those revealed back in January and the console is set to run at a 2GHz speed. The specific confirmed components are:
CPU:
ARM Cortex-A9 core (4 core)
GPU:
SGX543MP4+
Dimensions:
Approx. 182.0 x 18.6 x 83.5mm (width x height x depth) (tentative, excludes largest projection)
Screen:
Touch screen 5 inches (16:9), 960 x 544, Approx. 16 million colors, OLED, Multi-touch screen (capacitive type)
Rear touch pad:
Multi-touch pad (capacitive type)
Cameras:
Front camera, Rear camera
Frame rate : 120fps@320x240(QVGA), 60fps@640x480(VGA)
Resolution : Up to 640x480(VGA)
Sound:
Built-in stereo speakers, Built-in microphone
Sensors:
Sixaxis motion-sensing system (three-axis gyroscope, three-axis accelerometer), Three-axis electronic compass
Location:
Built-in GPS, Wi-Fi location service support
Wireless communications:
Mobile network connectivity (3G), IEEE 802.11b/g/n (n = 1x1)(Wi-Fi) (Infrastructure mode/Ad-hoc mode), Bluetooth 2.1+EDR (A2DP/AVRCP/HSP)
Ports:
PlayStation Vita card slot, Memory card slot, SIM card slot (3G/Wi-Fi model only), Multi-use port (for USB data communication, DC IN, Audio [Stereo Out / Mono In], Serial data communication), Headset jack (Stereo mini jack) (for Audio [Stereo Out / Mono In]), Accessory port
Despite releasing the details of its new PlayStation Vita handheld, Sony did reiterate a promise to current PSP owners that it would continue to develop for the console.