Sony seems to be prepping up a smartphone named LT25i Tsubasa that has been spotted in the NenaMark2 benchmark.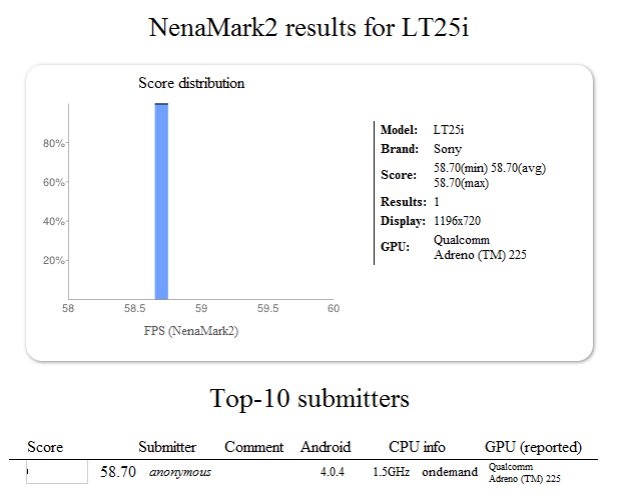 According to Xperiablog, an unannounced Sony LT25 is in works. The device is reportedly to come in both LTE and HSPA+ variants. Just three weeks ago, the device had popped up in AnTuTu benchmark that revealed it is likely to be available exclusively for China Telecom. At that time, the benchmark showed up "LT25c" model, which according to reports, the "c" part indicated that it will be meant only for users in China. Now, LT25i that has made its appearance in NenaMark2 benchmark revealing that we can expect an international variant too. Apart from LT25c, the device is also expected to debut in Japan via NTT DoCoMo (SO-01E) and KDDI (SOL21), in addition to the international LTE variant (LT25i) and international HSPA+ variant (LT25h).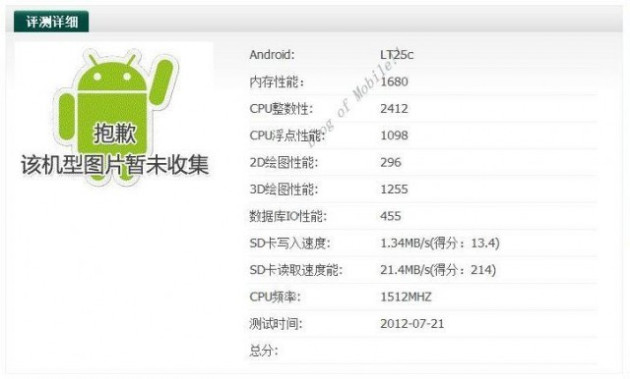 NenaMark2 benchmark shows that the device will come with a screen resolution of 1196 x 720 pixels, while the remaining 84 pixels will be allocated for onscreen buttons in ICS.
It is expected to be powered by Qualcomm S4 Snapdragon MSM8960 chipset with 1.5GHz dual-core processor. The Adreno (TM) 225 GPU is onboard.
The clocking speed at 1.5GHz seems to be a likely spec since even the AnTuTu benchmark showed up the same speed.
In terms of operating system, LT25i Tsubasa could run on Android 4.0.4 (Ice Cream Sandwich). LT25i is expected to be announced at IFA 2012 by the end of August. The company has not made official announcement regarding the LT25i Tsubasa.
Rumours have been doing the rounds that a new unannounced Xperia Tablet could make its appearance at the IFA event. Just a couple of days back, some pictures of the upcoming Xperia branded tablet were leaked, according to Xperiablog. The picture points at Android 4.0 ICS out of the box. The tablet's homescreen flaunts "cosmic flow wallpaper" that is seen in most Xperia smartphones.