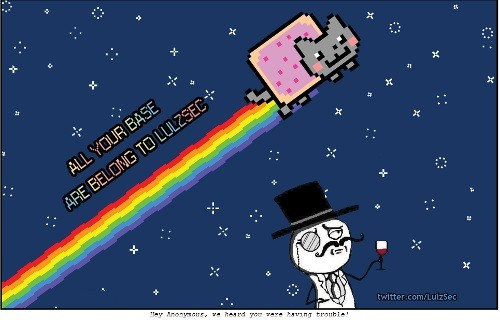 With Sony only just having gotten its PSN and PlayStation Store fully functioning, the hacker group LulzSec have released a statement claiming to have once again bypassed Sony's online security -- this time on one of its websites -- but, unlike the first PSN breach, it appears that a significant proportion of the general public have reacted with pity or even sympathy rather than anger.
Where it all started
While Sony customer service had at points given consumers ample reason to feel ill-will toward it, in general analysts and critics alike have cited the company's treatment of George Hotz as the straw that broke the camel's back.
Hotz, aka GeoHot, came into Sony's firing-line back in 2010 after he released a hack on his blog and website that, amongst other things, allowed users to play pirated games on their PS3.
Sony in response not only removed the consoles ability to run the Linux operating system -- the hack only worked if applied in the consoles Linux mode -- but also took Hotz to court in a high profile lawsuit.
In the course of the case Sony demanded social media sites, including YouTube, hand over the IP addresses of people who visited Geohot's social pages or watched his videos.
Described in the media as "a witch-hunt", despite the fact that Sony settled out of court with Hotz, the company's dogmatic mentality in general brought widespread ill-feeling from the general public against it.
The PSN nightmare
While it cannot be seen as the only reason, it was soon after the Hotz case ended that the hack happened.
Sony first admitted the attack on 20 April, 2011 when it posted a statement on its blog admitting that its PlayStation Network had fallen victim to a successful cyber attack.
At the time customers generally looked to Hotz and the hacker collective "Anonymous" as the key suspects, but both have since denied their part in the hack.
Affecting Sony's Qriocity music service as well as the PSN, the hack left between 77 million to as many as 100 million user's account and billing information compromised.
The outage occurred when Sony technicians realised that the security breach had occurred and the company chose to shut the service down as it tried to make sense of what had happened and figure out what damage had been done.
The reactivation
The reactivation only began weeks later and was a phased restart. Beginning in early May, Sony restarted its PSN network in America and Europe. Asian territories remained shutdown after rumoured interference by the Japanese Government and only reactivated much later.
In the early stages of the restart certain services including the PlayStation Store were not available to users. It was only yesterday that PlayStation users could actually make use of the console's online store.
As a part of the reactivation Sony offered its users several free gifts and downloads as peace offerings for the extended outage. These offers included items such as a period of free PlayStation Plus service, two free game downloads for the PSP and PlayStation 3, subscription to a free 12 month data protection service and a host of downloadable music and videos.
The company also issued several public apologies and appointed a new head of online security to ensure such an attack never happened again.
Despite all of the above, the company still suffered an estimated $177 million loss, adding to an already poor performance in the fiscal year.

The newest hack
The newest hack on Sony was not on its PlayStation Network. The hack targeted the company's SonyPictures.com website.
The group LulzSec has since claimed responsibility for the second breach in Sony's online security.
The group reportedly targeted the site to demonstrate Sony's continued weakness and teach consumers not to, "put such faith in a company that allows itself to become open to these simple attacks".
The group has since published the email and home addresses, phone numbers and names of the website's users.
At this moment Sony has not verified the authenticity of the groups claims, though certain news sites such as Reuters have claimed to have verified the information released by the group as authentic.
Sony's future
Sony has received a significant amount of criticism for its handling of the crisis. CEO's Howard Stringer's comments that Sony was simply a victim of circumstance and that it could have been any major company could not have been made at a worse time. But, this isn't to say his words are entirely without merit.
The growing threat cyber attacks pose companies and governments is a debate that had been gradually growing even before the PSN's outage.
Just recently a host of other companies and even governments have reported if not similar breaches, at the very least similar attempts.
RSA Security and L-3 Communications, two high-end security firms that have contracts with several government agencies have recently fallen victim to similar cyber attacks.
Even search-titan Google has recently admitted to a serious attempt on its Gmail service -- an attack that has left many speculating on a possible security leak on the U.S. Government's networks.
The point here is that while Sony are without a doubt not blameless, there is a certain degree of truth in Stringer's sentiment. The fact that Sony has been hacked, while showing a problem in the company's own security, also points to a larger overarching problem facing all governments and companies.
As U.K. Chancellor George Osborne pointed out, cyber crime is a growing problem. Putting aside the debate about whether countries such as China are funding cyber espionage campaigns, hacker groups like Anonymous and LulzSec are developing and using a growing arsenal of techniques for bypassing online defences.
Because of increased coordination between hackers, as Microsoft pointed out earlier this week, Sony's troubles could demonstrate the need for a re-think of how the world runs its cyber protection as a whole.
If viewed in this light, Stringer's comments could be seen as to a large extent true, with every company being at risk from coordinated groups of hackers.
In this sense then to a large extent, rather than an act of kindness to teach users not to trust Sony, LulzSec's recent second attack on Sony Corp. could be seen as little more than opportunistically kicking the tech giant while its down.
UPDATE: Nintendo has since confirmed that a similar attack has targeted its network, LulzSec has since claimed responsibility.