With Windows 8 going on sale later this month, manufacturers are chomping at the bit to show off their latest and greatest hardware developed to take advantage of Microsoft's new touch-optimised operating system.
This week it was Sony's turn to show off the Vaio Duo 11 and Vaio Tap 20, an 11in tablet/ultrabook convertible and a 20in tablet/desktop hybrid.
Sony's Vaio Duo 11 features a sliding mechanism - which the Japanese company calls Surf Slider - which allows the screen to be slide up to turn a tablet into an Ultrabook.
IBTimes UK went hands-on with the Vaio Duo 11 at a Sony event in London this week and, although the 11in screen makes the device feel larger than most other tablets, it's not overly cumbersome, despite having a full-fledged laptop inside.
Closed, the user will tap away on the 11.6in Full HD screen, with a resolution of 1920 x 1080 which uses Sony's own OptiContrast technology which promises great viewing angles and better viewing in bright conditions.
The sliding mechanism to open the Duo 11 works well, with a small button at the top of the screen to press, popping the display up and away from the keyboard below; the screen that clicks into place and you're good to go.
Helping you control the interface on-screen will be a digitizer stylus pen which comes with a range of tips to give you more options in terms of harder or softer writing feel.
There's no holder for the pen which is pity, unless you opt for the sheet battery which includes a slot for the stylus - and that extra battery increases life from five to an estimated ten hours.
That stylus works in a very similar way to the S-Pen on Samsung's Note 2 smartphone, in that the screen knows when the stylus is close ad a) displays a pointer on-screen and b) will respond to only the stylus tip, so you can lean on the screen to write safe in the knowledge that your hand will not be smudging the virtual ink.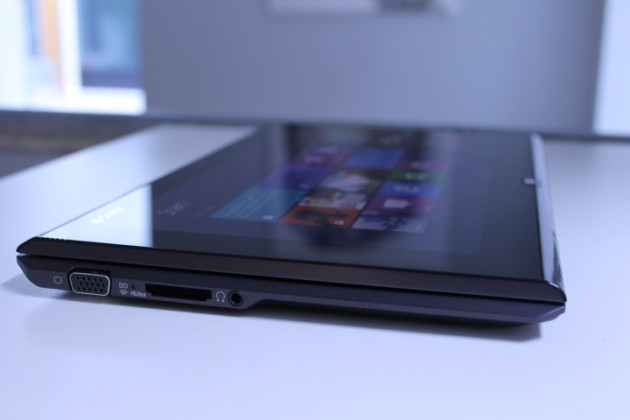 There's no trackpad so instead Sony has installed a rubber nub in the middle of the keyboard, similar to the item used on IBM ThinkPad laptops. It works well enough, but will certainly take some getting used to.
The Vaio Duo 11 is powered by third generation Intel Core processors, ranging from Core i3 all the way up to Core i7. It will be available with either Windows 8 or Windows 8 Pro and can be configured with up to 8GB of RAM.
In terms of storage the hybrid will be available with either 128GB SSD or 256GB SSD.
Connectivity is excellent, with two USB 3.0 ports; HDMI, Ethernet and VGA ports; a combined Memory Stick Duo/SD card port; as well as Bluetooth 4.0 and Wi-Fi n.
You also get front and rear cameras as well as NFC, GPS, accelerometer and digital compass.
The laptop/tablet measures 320 x 199 x 17.85mm and weighs in at just 1.3kg.
All in all, we were impressed with our time with the Vaio Duo 11. It's a tablet and laptop in one, but neither aspect compromises the overall product too much - but with a retail price expected to be around £1,000, it's a very high-end product.
The Duo goes on sale when Windows 8 does on 26 October.