Key Features:
5in full HD display, 1080 x 1920 resolution, 441 pixels per inch
Quad-core, 2.2GHz Snapdragon 800 processor
16GB storage ( microSD card slot), 2GB RAM
Sony Xperia Z1 Review
Sony has been to the Marks & Spencer's school of marketing. Instead of 'a good screen and a really good camera', the Z1 has a 5in, full HD, Triluminos, X-Reality display with Intelligent Super Resolution set in an OmniBalance design frame with a sprinkling of BIONZ, a G lens and a fruit compote on the side
One of those is made up, but the rest of the those meaningless terms are present, correct and driving me mad.
The poor consumer has enough on their plate (right next to the compote) working out how many pixels and gigahertz they need before they can consider the benefits a Triluminos X-Reality display will bring to their life.
I digress. What we have here is a 5in, Android smartphone with a glass and metal design, HD screen and one of the largest camera sensors ever fitted to a smartphone. Sony is squaring up to the biggest names in the business and with a price to match - but does the Z1 deliver?
Sony Xperia Z1: Look and Feel
It's just six months since we reviewed Sony's last flagship, the Xperia Z, and on the outside not much has changed for the Z1.
Both are thin, black slabs of smartphone with glass on their front and back, a screen bezel larger than it needs to be, and awkward doors covering the phone's ports and card slots to make them waterproof.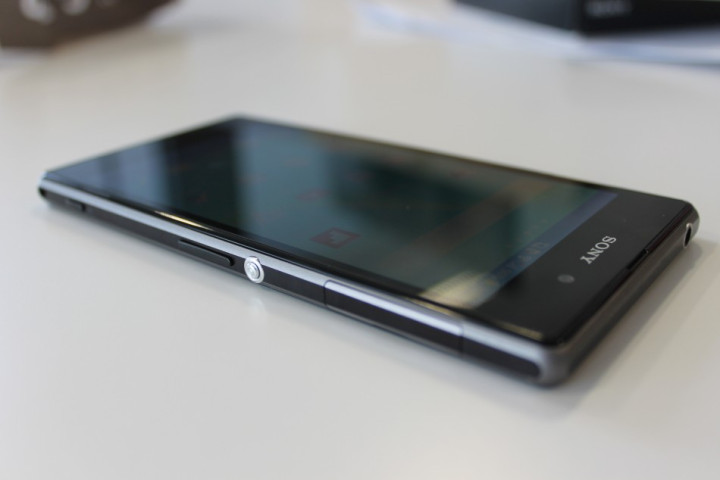 Where the Z made do with soft touch plastic, the Z1 gets a single, unbroken piece of metal surrounding the entire outer edge. It looks good, has a cool, premium feel to it, and gives the device enormous strength and rigidity.
But, while visually appealing, its squared-off design makes the phone difficult to hold comfortably and securely. I'll blame some of this on my small hands, but the thinness, lack of texture and relatively high weight made me feel like the Z1 would slip out of my hands more easily than other devices.
The slight curve to the HTC One, or smaller overall size of a Samsung Galaxy S4 make me feel more confident that either phone won't die prematurely, having slipped out of my hand.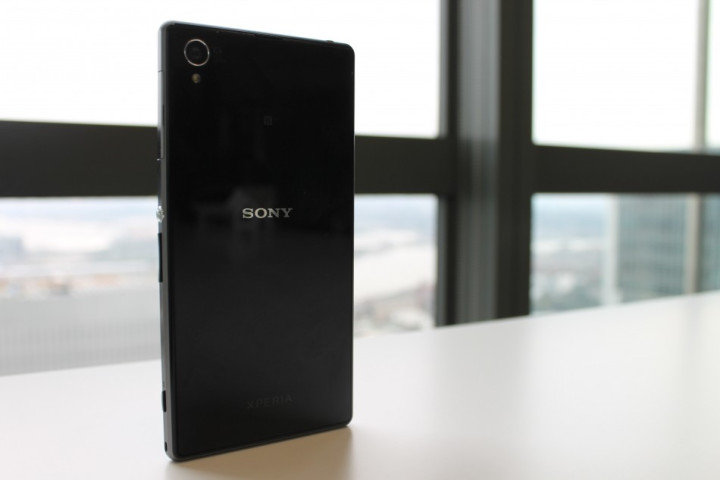 In making the phone waterproof - to a depth of 1.5m for up to 30 minutes - Sony has covered the ports and slots with plastic doors which are tricky to remove, and because only the SD card slot door is labeled, buyers will no doubt mix up the SIM and USB ports at first.
Adding to the frustration, the SIM card tray is absolutely impossible to remove with your fingers - and since the Z1 doesn't come with a SIM removal tool of any kind, I resorted to using the tool from my iPhone. This probably isn't what Sony wants you to do.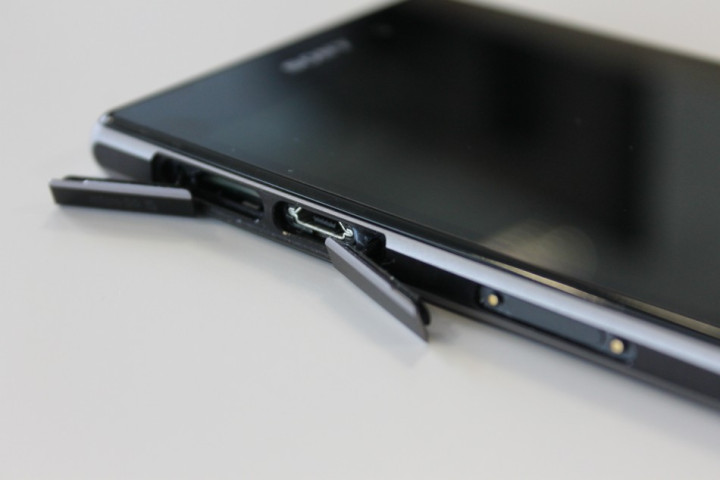 I know picking fault with the SIM card tray sounds pedantic, but this is probably the first time you interact with the Xperia Z1 after buying it, and if you have to hunt around for a paperclip - or, worse, the SIM removal tool from another phone - before you can even use it, then something has gone wrong.
Mercifully, the headphone jack receives a special coating to make it waterproof without the need for a cover.
Otherwise, Xperia Z1 is an attractive and very well made phone - from an engineering viewpoint, if not an ergonomic one - but I'd like to have seen a slightly lower weight and smaller screen bezel, especially at the top and bottom where there's almost an inch wasted in each direction, making the screen look smaller than it really is.
Sony Xperia Z1: Screen
Sony claims the Z1 isn't just its flagship phone - it's a culmination of the best of everything Sony does - and so it shares display technology with the Bravia televisions.
I had high hopes, but the Z1's display turned out to be a disappointment. There's a frankly embarrassing lack of brightness - even when cranked up to 100%, see below - and viewing angles are poor; tilt the phone slightly off centre and colours start to fade away.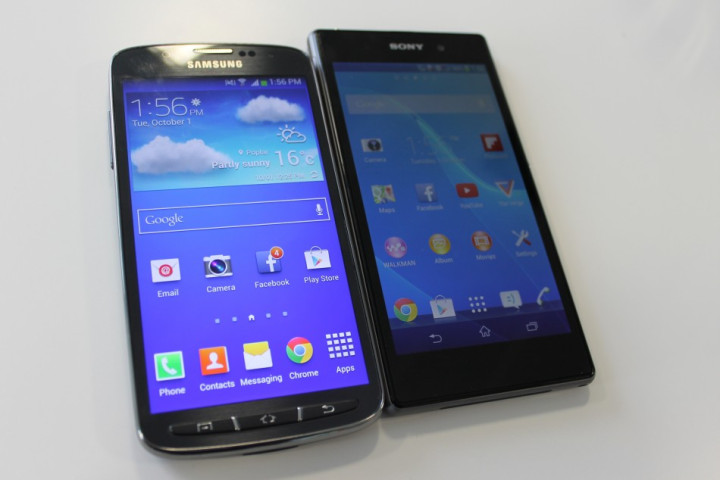 There's also a slightly warm, yellow tinge to everything, which is less noticeable when viewed in isolation, but very obvious when lined up with another phone.
With a full HD resolution of 1080 x 1920 and a pixel density of 441 pixels per inch, the Z1 matches its rivals on paper, but as is becoming evermore the case, you simply can't judge a smartphone by its spec sheet; the Z1's screen is a clear generation behind the iPhone 5, HTC One and Galaxy S4.
Sony Xperia Z1: Performance and Operating System
The Z1's screen may have failed to impress, but it's performance is excellent - no surprise, given the quad-core, 2.2GHz processor and 2GB of RAM. Android 4.2.2 runs without fuss and intensive games like Grand Theft Auto open just about instantly.
Under heavy load the phone heated up noticeably on the back, especially at the top near the camera, but it never became uncomfortably hot.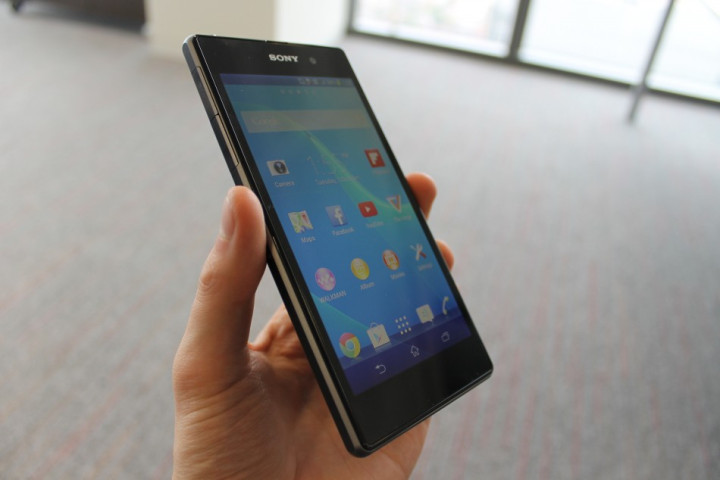 Sony's version of Android has plenty of visual garnish smothered over it, including changes to the lock screen, application drawer, notification centre, multitasking page, and just about everything else. But it's not offensive, and users familiar with Android will get to grips with the Sony in no time.
I found the Z1 to be fast, stable and responsive, with no apps freezing or crashing unexpectedly - it performs just as you'd expect a £600 phone to.
Thanks to a battery 23% larger than the Xperia Z, the Z1 will comfortably last a full day and night between charges
Sony Xperia Z1: Camera
Sony's branding department couldn't help itself. Next to the larger-than-average rear lens of the Z1 you'll find 'G, 1 /2.3, 20.7MP' etched into the glass. I'd like to ask 100 smartphone users to explain what all that means, because I bet very few would actually know or care.
It means the camera's image sensor measures 1/2.3 inches (large for a phone) and can shoot photos of 20.7 megapixels (also impressive), but I'd rather Sony stopped bragging with unintelligible numbers and instead left the user to determine the camera's quality for themselves.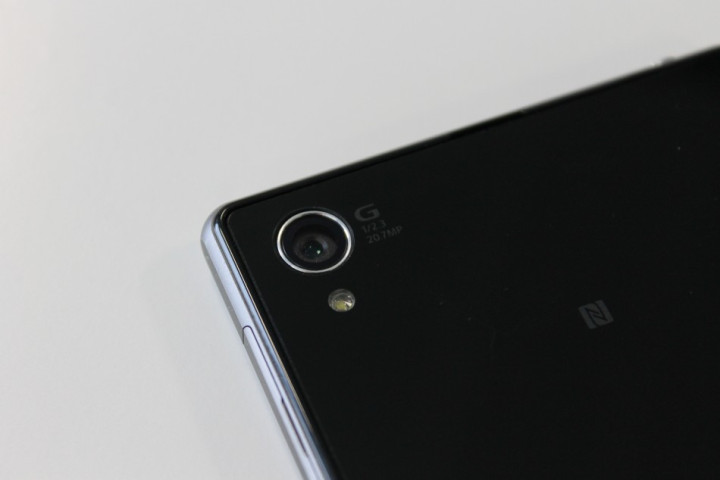 Although you can shoot in full 20.7-megapixel glory, by default the Z1 will take 8-megapixel photos and use the extra pixels to oversample each image, providing extra clarity and detail.
But, as we found with the Xperia Z earlier this year, the Z1's camera is hit-and-miss. Low-light performance without the flash was mostly excellent, capturing detail in a dimly lit room (see below) missed by the camera of a Galaxy S4 Active I've also been using.

But sometimes the Z1 failed to live up to expectations, producing overly noisy photos with a grainy finish and very obvious post-processing making finer details look like they've been poorly corrected in Photoshop.
Outdoors, the Z1 performed well and took impressive photos, but for all the bold claims and Sony photography heritage, it wasn't the quantum shift I was expecting.
Since Nokia moved the goalposts with the Lumia 920 and its optical image stabilisation last year, improvements have been more incremental than game-changing.
Most users will want to leave the camera in Superior Auto Mode, which alters settings based on when you're looking at; but for the more adventurous there's a manual mode, as well as panoramas, filters and a range of augmented reality effects which superimpose 3D dinosaurs and fish onto your photos, if that's your thing.
Sony Xperia Z1: Verdict
The Z1 and its meaningless marketing might have caught me on a bad day, but after a week of using it I still can't say it lives up to the claims made by the marketing department.
In low light the camera can be very good, but the amount of noise in some shots was disappointing. The screen is very sharp and quite good when viewed dead-on, but viewing angles are poor and the yellowish tinge makes everything feel a bit faded compared to the competition.
Design-wise, Sony let the engineers run wild then forgot to speak to the ergonomics department, producing a phone that is beautiful to look at, but feels much bigger and heavier than it should, while the slim, flat edges make it uncomfortable to use for long periods of time.
Scores:
Screen: 6/10 - Full HD, but a poor backlight and yellow tinge let it down
Camera: 8/10 - Better than most, but images are often noisy
Design: 7/10 - Well made, but uncomfortable to hold and poor ergonomics
Build Quality: 9/10 - Metal and glass construction adds huge strength
Operating System: 8/10 - Runs perfectly, but Sony has made many unnecessary changes to Android
Performance: 10/10 - Excellent, does everything instantly and with good battery life
Overall: 7/10 - A well made and powerful phone, but both screen and camera not as good as Sony claims them to be
The Good:
Headphone jack waterproof without cover
The Bad:
Sony UI skin changes a lot of Android
Waterproof covers are a pain to remove
Only 16GB internal storage (with only 12GB user-accessable)
Camera Samples