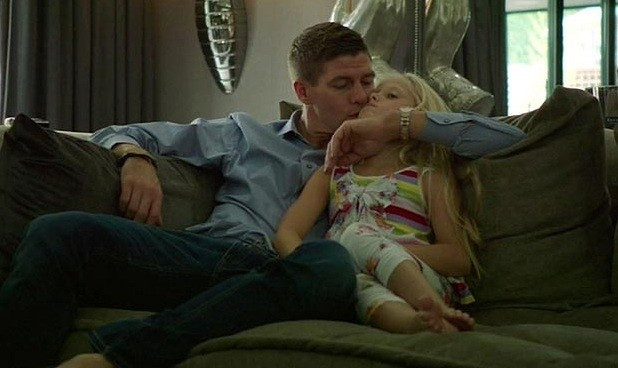 Football star Steven Gerrard has become the latest celebrity to appear in a reality TV show.
The 32-year-old Liverpool captain will give fans an intimate glimpse into his home life in a six-part series about the club, called Being Liverpool.
The Channel 5 show goes behind the scenes at the Premiership club to show fans what happens on, and off, the pitch.
In a preview from the show, which airs on 21 September, the skipper plays with his daughters Lilly-Ella, Lexie, and Lourdes and spends time with his wife, Alex Curran.
In one tender scene, he smiles widely as he gently coaxes 10-month-old Lourdes to totter towards him in a baby walker.
Throughout the series, viewers will be invited into the home of goalie Pepe Reina, and follow Lucas Leiva as he battles to make a comeback from an anterior cruciate ligament injury.
They will also watch as the squad react to the departure of former manager Kenny Dalglish and the hiring of his replacement Brendan Rodgers.
Gerrard's reality show debut comes just days after he thanked football fans for the support they showed Liverpool following the publication of the Hillsborough report.
After 23 years, the independent report, based on previously unseen documents about the tragedy, concluded that police had failed to do enough and had tried to blame Liverpool fans.
Having lost his 10-year-old cousin Jon-Paul Gilhooley at Hillsborough Gerrard said: "On behalf of the club I'd like to thank everyone in the city, both Reds and Blues, and everyone around the country for supporting our club and our fans.
"It's been mixed emotions since the report came out. We're really happy with the breakthrough but it brings back memories of all those years ago.
"It would have been nice to take the three points home [from the recent game against Liverpool] and dedicate it to the supporters but every fan who watched that game would have been really proud of the effort the team gave."