SoundTracking, a music sharing servcie, now offers complete integration with Spotify, and the ability to link to Instagram pictures.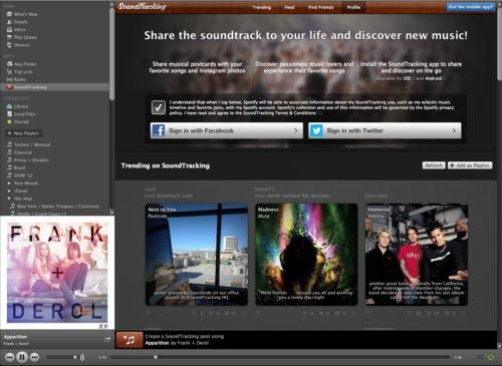 SoundTracking, launched in March 2011 and with over 2 million users is a mobile app which lets you connect music to moments and share it with friends and other users. "It's sharing in a meaningful way," explains Steve Jang, CEO and co-founder of Schematic Labs.
Available for iOS and Android, until now the app was only ever mobile, but with this partnership with Spotify, SoundTracking will also be available inside Spotify itself.
"This was exciting to do because it was also our first desktop application. We worked closely with Spotify to bring SoundTracking inside the app," continues Jang.
"We are bringing sharing to Spotify in a different way. It's not automatic like Facebook. Here users can pick meaningful songs and connect them to moments in their lives, sharing with people who are close to them."
The integration will allow users to share music to their SoundTracking feed directly from inside the Spotify app. Users will also be able to stream full songs connected to moments and create playlists from feeds directly into Spotify.
"A lot of our users were requesting this integration. We are happy to bring it to them."
The Spotify integration is not the only news SoundTracking had to share. "We realised many users also had an Instagram account and wanted to be able to connect their Instagram pictures with their SoundTracking moments, so we have made this available."