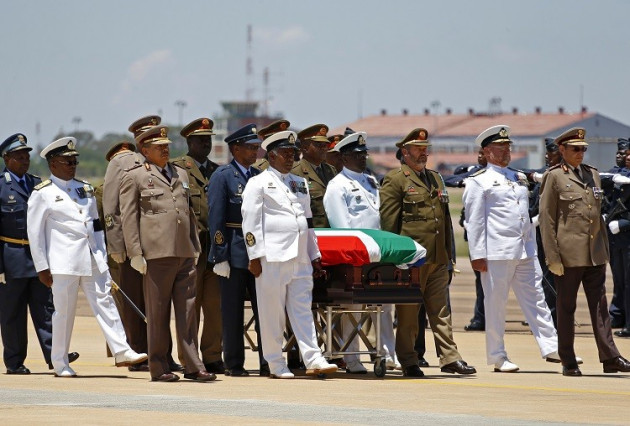 Nelson Mandela will begin his final journey home to Qunu, his childhood village on South Africa's Eastern Cape, on Saturday.
Over the last three days, around 100,000 people have filed past the former South African president's body as it lay in state in Pretoria.
Members of the African National Congress held a special multi-faith service, punctuated by dance and song, to honour their former leader. President Jacob Zuma hailed the political achievements of his predecessor, saying he brought discipline and vision to the anti-apartheid movement.
"He did something that is not easy to do," he said.
Mandela's grandson Mandla, who sat with his grandfather for three days in Pretoria, also attended the service. He said: "I have witnessed his army, I have witnessed his people. I have witnessed ordinary South Africans who walked this long walk to freedom with him."
A farewell service will be held at Pretoria's Waterkloof air basebefore Mandela's coffin is placed on board a military plane bound for Mthatha. Mandela's body will then begin its final journey to Qunu, accompanied by family members and officials.
Mandela's state funeral is a first for South Africa, and the late former president will receive full military ceremonial honours.
A 21-gun salute will ring out and the South African Air Force will perform a fly-past.
The traditions of his Xhosa tribe will also be observed, with the ritual slaughtering of an ox before Mandela's body arrives at Mthatha airport.
In keeping with the traditions of the Xhosa tribe, his funeral should be a great family gathering, numbering more than 70 members of the Mandela clan.
But despite the huge 4,500 VIP guest list - including Prince Charles - it seems there is insufficient room for many relatives including his great-nephew Mzwandile Mandela - grandson of the former president's brother Maurice, who died last year. He lives just across the road from the 'big house'. Yet even this 13-year-old cannot get a pass.
Instead, Mzwandile will have to watch the ceremony on TV.
He said: 'I'm sad because I would have liked so much to be there. But they say there are not enough passes for young ones in the family."
Also excluded are Mandela's niece, Gloria Mkwedini, 38, the daughter of his last-surviving sister and her family of 16.
Retired archbishop Demond Tutu will also miss the burial service amid allegations he was not invited for politcal reasons.
The 82-year-old, who also missed a memorial service in Soweto earlier this week, has been openly critical of the ruling ANC party.
His spokesman refused to comment on the reasons for his exclusion.
According to Mandela's memoirs, Qunu village, with its rolling hills and dusty tracks, was where he spent "the happiest days" of his childhood.
Zwelonke Sigcawu, the Xhosa king, told Sky News: "The Xhosa people believe Nelson Mandela is not leaving us. It is just his body which is going into the ground. His spirit will remain."