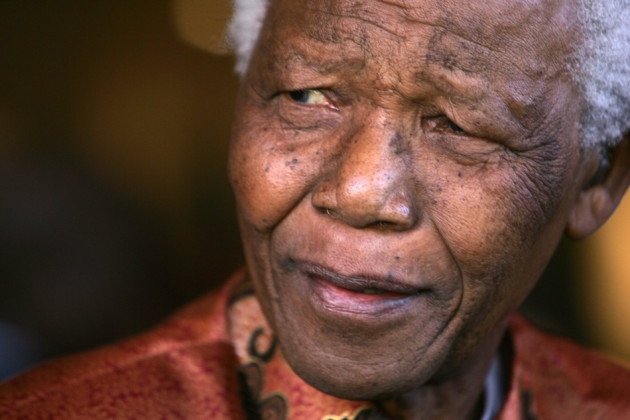 South Africa is praying for Nelson Mandela, who is now in critical condition at a hospital in Pretoria after his health deteriorated on Sunday.
The 94-year-old anti-apartheid leader was hospitalised on 8 June for a recurring lung infection.
"All I pray for as a daughter is that the transition is smooth. ... He is at peace with himself. He has given so much to the world. I believe he is at peace," Mandela's daughter Makaziwe told the CNN.
On Monday morning, Presidential spokesman Mac Maharaj said a "sombre mood" would be appropriate to the news, while President Jacob Zuma reiterated a Sunday evening statement saying that Mandela remains in critical conditions
Zuma visited Mandela in Pretoria accompanied by Cyril Ramaphosa, the deputy president of the country's ruling party, the African National Congress, on Sunday evening.
Zuma said he didn't have a chance to speak to Mandela, as the 94-year-old former president was asleep as he arrived.
"The doctors are doing everything possible to get his condition to improve and are ensuring that Madiba is well-looked after and is comfortable. He is in good hands," Zuma said, using Mandela's clan name.
Zuma also denied that Mandela's condition suffered from a delay in his journey to hospital caused by troubles with the ambulance engine.
Mandela had to be transferred to a second emergency vehicle when his military ambulance broke down while covering the 50 km (30 miles) from Johannesburg - where the Nobel peace prize winner has been living - to Pretoria.
"There were seven doctors in the convoy who were in full control of the situation throughout the period. He had expert medical care," Zuma said. "The fully equipped military ICU ambulance had a full complement of specialist medical staff including intensive care specialists and ICU nurses."
Doctors have dismissed media reports Mandela suffered cardiac arrest in transit.
Mandela was jailed for 27 years under white racist rule. Released in 1990, he went to become South Africa's first black president in all-race elections in 1994.