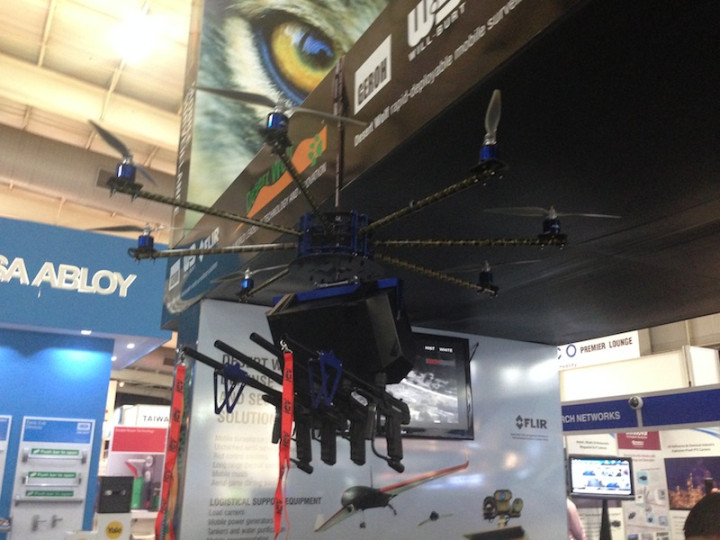 An anti-riot drone equipped with pepper spray, strobe lighting and deafening audio to disperse unruly crowds has gone on the market.
The unmanned Skunk, made by South African company Desert Wolf, has four high-pressure carbon fibre airguns each capable of firing 20 paintballs, pepper spray capsules or rubber bullets per second, "stopping any crowd in its tracks", and can carry up to 4,000 rounds at a time.
In a press release, the makers go to some lengths to reassure readers that the highest projectile firing rate will only be used in "an extreme life-threatening situation".
They said that the device had been sold to an international mining company, and could be used to help prevent another Marikana – a reference to a 2012 protest in which 34 striking miners were shot dead in clashes with police.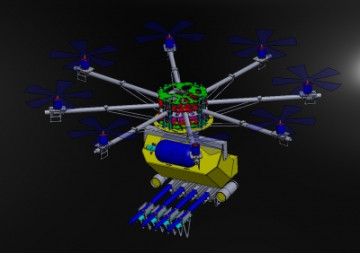 Unveiled at a recent trade show, the Wolf is retailing for 500,000 rand (£27,400).
The drone is also capable of identifying and recording individuals in the crowd using FLIR thermal infrared and HD colour cameras, and controllers on the ground can use microphones to remotely broadcast instructions and warnings.
Hennie Kieser, Desert Wolf's managing director, said that orders were already flooding in.
"We received an order for 25 units just after [the unveiling]. We cannot disclose the customer, but I can say it will be used by an international mining house," he told the BBC.
"We are also busy with a number of other customers who want to finalise their orders -- some mines in South Africa, some security companies in South Africa and outside South Africa, some police units outside South Africa and a number of other industrial customers."
The Marikana killings are the bloodiest act of police violence in post-apartheid South Africa, and are the subject of an ongoing judicial enquiry. Ten other people, including police and security guards, died in the protests.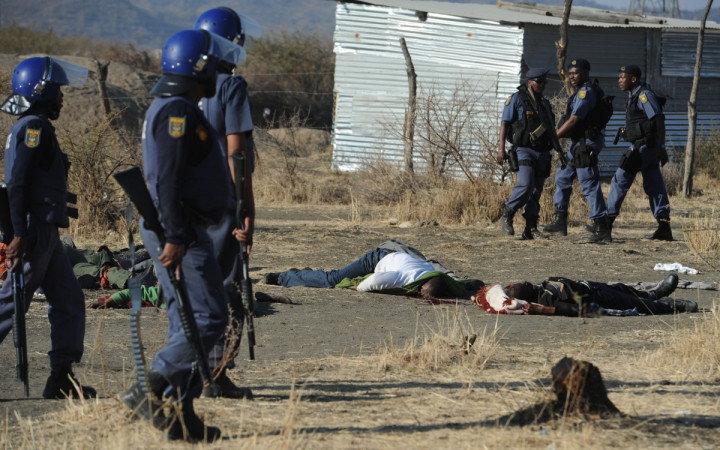 Kieser said he had flown drones at Marikana as part of a surveillance operation.
"Anyone who was at Marikana would rather have this technology than live ammunition," he continued. "People who say it's inhumane compared to 9mm bullets are idiotic," he told the Guardian.
James Nichol, who represents the families of some of the miners killed at Marikana said that plans to use armed drones against demonstrating crowds such as that at Marikana was "disgraceful".
"It's absolutely outrageous. Using pepper spray like ammunition to scatter the crowd. People are entitled to be on strike. Who would make the decision? It's absurd," he told the paper.