A South Korean major league baseball team has introduced the world's first cheering robots, who are designed to lead cheers in the stadium during games, as well as standing in for fans watching the game remotely.
The Hanwha Eagles baseball team has introduced "Fanbots" to its home stadium, the Daejeon Baseball Park.
At every game, three rows of seated faceless robots synchronously raise large LED electronic signboards in the air that spell out messages of support sent in via the web or text message from fans in Korean.
Where the robot's face should be, there is a blank screen which changes to show the faces of fans watching the match, who upload photos of themselves on computers or mobile devices. The robots themselves are dresses in baseball team t-shirts and jeans.
The robots are also designed to lead the fans in cheering during matches, for example starting slow waves across the stadium.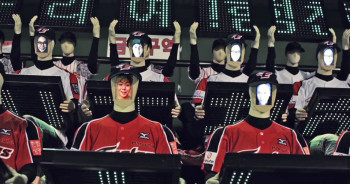 "I think the signs out there are a pretty good idea, gets the crowd into it and really helps them get involved," said the Eagles' pitcher Andrew Albers in the video.
Kim Seung-bi, a 26-year-old hardcore Eagles fan told Korea Biz Wire: "I like the fact that I can send messages even when I am not in the ballpark or not watch the game on TV. I am proud of being an Eagles fan as the club has pioneered the world's first all-digital cheerleading troops."
The Hanwha Eagles have not been doing very well recently, suffering over 400 losses in the last five years, so much so that Eagles fans are nicknamed "Buddhist Saints" by the fans of other major league teams.
Although some might see the robots as a promotional gimmick, they might attract more fans to come to the stadium just to see the robot cheerleaders in action.