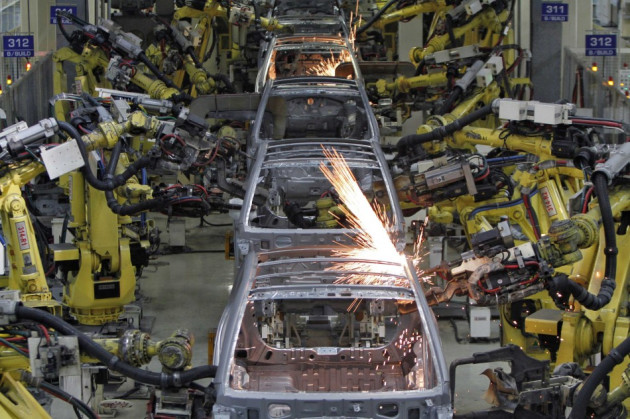 South Korea's industrial production has increased for the second straight month in October, helped primarily by the recent rise in exports.
A report by Statistics Korea said October production in the mining, manufacturing, gas and electricity industries rose 0.6 percent month-on-month, following a 0.7 percent increase in September.
The central bank said earlier that the country's exports improved 3.9 percent to $48.21bn (£30.05bn) in October, indicating a recovery following a continued slump.
Nevertheless, industrial production fell 0.8 percent year-over-year in October, compared to a 0.7 percent year-over-year gain in September, as business activities are affected by gloomy economic conditions at home and abroad. October marked the first month of output contraction since production fell 2.1 percent year-over-year in January.
The service sector production increased 0.9 percent year-over-year last month, but fell 1 percent from the previous month.
The country, which primarily relies on its exports for economic growth, has been suffering from lower demand from the crisis-hit eurozone and a gloomy outlook for the global economy.
South Korea's central bank earlier said that the economy's growth slowed down in the July-September period from the earlier quarter. Asia's fourth-largest economy grew 0.2 percent sequentially in the third quarter, compared to a 0.3 percent growth in the second.
The growth rate in the third quarter was the lowest since a 0.2 percent growth in the fourth quarter of 2009.
Amid mounting concerns over the South Korea's future prospects, the Organization for Economic Cooperation and Development (OECD) has recently lowered the country's growth estimate to 2.2 percent from 3.3 percent. Growth outlook for 2013 has been cut down to 3.1 percent from 4 percent.
Experts were citing toughened market conditions for Korea-made goods as the reason for the cut.
While exports rose 3.9 percent in October, the recent appreciation of the local currency has raised fears due to constraints on overseas sales. The won has appreciated more than 6 percent against the US dollar so far in 2012.
The latest Statistics Korea report noted that retail sales increased 2 percent on-year in October, but the growth rate is slower than the previous month's 2.3 percent. Compared to the previous month, retail sales contracted 0.8 percent.
Corporate investment in facilities fell 0.7 percent on-year last month, affected by a decline in spending on precision machinery and transportation equipment. It also recorded contraction of 2.9 percent from the previous month.
Factory operating rates in the manufacturing sector rose 0.7 percentage point from the previous month to 75.9 percent, according to the report.