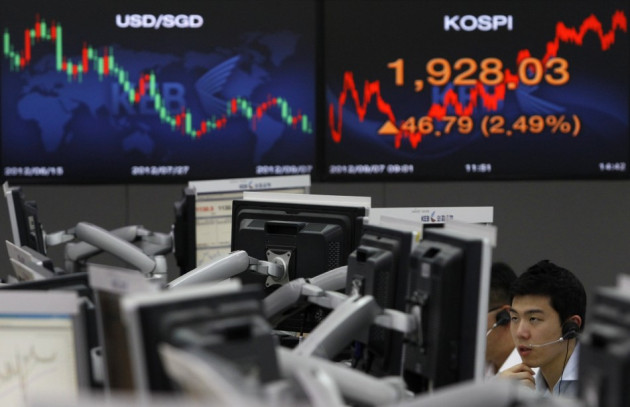 South Korea has announced a stimulus package of $5.2b (£3.2b) as Asia's major economies struggle to cope with the global downturn.
The country's ministry of strategy and finance said in a statement that the stimulus is aimed at reviving the private sector amid the European debt crisis and the global slowdown.
"This round of support will use the maximum available resources, both fiscal and administrative, concentrate on areas where the fiscal support will have an impact this year, include local governments as well as the central government to help boost the economy nationwide, and actively reinforce social safety nets," the ministry said.
The stimulus will cut individual income taxes and spur car and house purchases while expanding the social welfare programmes.
South Korean Finance Minister Bahk Jae-wan said at a policy meeting that the European crisis is prolonging beyond expectations and the global slump is continuing, adding that the economic uncertainty has impacted the country's prospects.
The Wall Street Journal reported that the country's overall exports fell 6.2 percent from the previous year while exports to the European Union alone fell 9.3 percent.
Domestic demand is sliding as well with sales in the country's three major department stores falling by 6.1 percent in August from a year earlier.
But analysts are not sure if the latest initiative is enough to reverse the slowdown.
Peter Frank of Woori Investments and Securities told the Wall Street Journal that the South Korean stimulus may not rise up to expectations.
"Even with the latest stimulus package, it's difficult to achieve 3% GDP growth this year," he said adding that the prospects of people purchasing cars and houses when the economy looks dull are less.
In July the country's central bank Bank of Korea (BOK) had revised its growth forecast for 2012 to 3 percent from 3.5 percent in April.
All eyes are now on the BOK and its upcoming meeting on Thursday where a decision on further interest rate cuts would be announced.
The bank had kept the interest rate unchanged at 3 percent in August after a 0.25 percent cut in July.
Markets remained relatively calm as investors waited for the central bank's announcement and the US Federal Reserve's decision.