The South Korean military is using dating apps to identify and arrest gay men within its ranks, according to a human rights group operating in the country.
An investigation by the Military Human Rights Center of Korea (MHRCK) alleges that soldiers suspected of being homosexual are coerced into outing other gay men after a sex tape between two serving soldiers was discovered by army officials.
According to the group, homosexual soldiers under investigation are being ordered by prosecutors to use dating apps to extract identifying information about other gay men so they too can be arrested and dishonourably discharged.
The activist group published screenshots said to show a conversation between two soldiers where the men discuss sharing pictures and information about the units they serve in.
Sexual acts between men is illegal within South Korea's military, and carries a sentence of up to two years in prison. According to QZ, prosecutors are now "conducting an army-wide search" for gay and bisexual soldiers, with up to 50 being "identified" so far.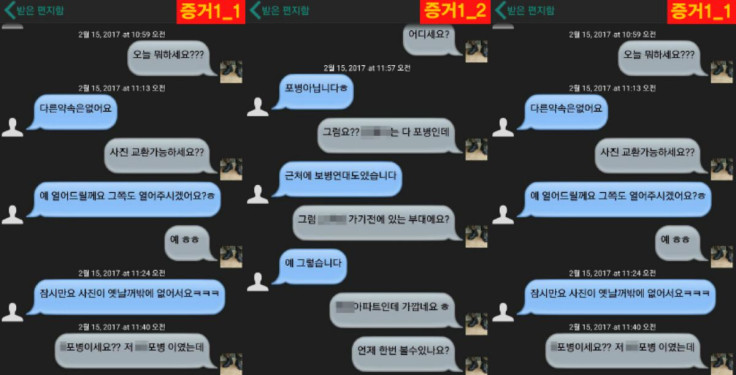 The search is reported to have been ordered by the South Korea Army chief of staff Jang Jun-kyu, although the military has denied such a search is taking place and told the Korea Herald that it was confined to one incident.
A spokesperson said: "The investigation team launched the probe after recognising that an incumbent soldier uploaded a video of him having sexual intercourse with another male soldier on social media."
Same-sex relations are legal outside of the army, with Korean human rights law stating that that "no individual is to be discriminated against on the basis of his or her sexual orientation". Despite this, same-sex relations are still not widely accepted in South Korean society.
The MHRCK said in a statement: "If military personnel who served without any problem are forced to be dishonourably discharged and sent to prison due to their sexual orientation, it is hard to distinguish Korea from the worrisome countries where homosexuals are detained, tortured and executed."