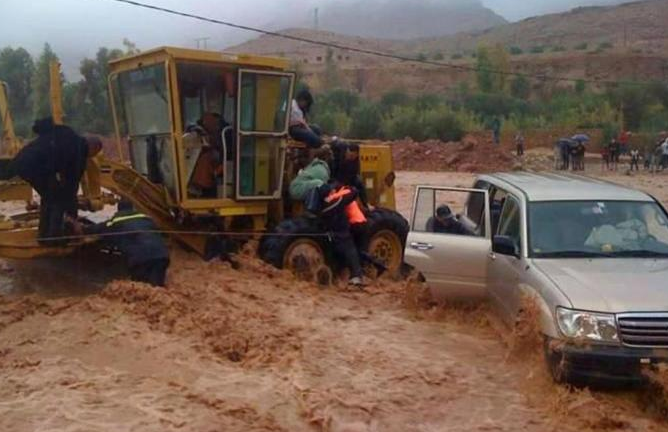 Heavy rains over the weekend have flooded the south of Morocco leaving a death toll of 32 with several others reported missing, confirmed Morocco's government.
A total of 100 mud-brick homes were completely or partially destroyed in the south and an estimated 100 roads were blocked, including six national highways.
Storms have been reported across the regions of Guelmim, Agadir and Ouarzazate, the authorities said.
"It was forecast that more than 100 millimetres of rain would fall, but nothing has been done. They just waited for the catastrophe to unfold," Brahim Boulid told Al Jazeera from Guelmim, blaming the catastrophe on the neglect of the authorities.
Local media sources have also reported heavy flooding in the tourist area of Marrakech, where several tour buses have been stranded and mud homes have been destroyed.
Authorities are continuing search for stranded people, however, emergency crew are unable to reach people as torrential rain has left roads and highways blocked.
An interior ministry statement quoted by AFP News said, "[Rescue operations saved] 200 people in danger, among them 40 helped by army and royal guard helicopters."
The ministry said 130 all-terrain rescue vehicles and 335 inflatable boats are being deployed in the rescue operations for the missing.
Eight members of the same family lost their lives to the floods after their car was swept away, reported AP News.
Most of the dead are reportedly people trapped in their cars that were swept away by floods, AP quoted local media as saying.
The national weather service has confirmed that heavy rainfall warning remains in place until midday Monday.