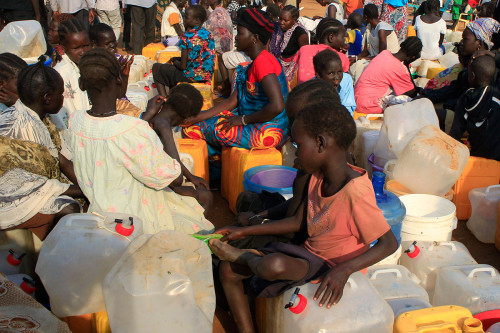 South Sudanese rebels have demanded Ugandan troops withdraw their support of the government as a condition for agreeing to any ceasefire, according to Reuters.
Ugandan President Yoweri Museveni confirmed that some 1,600 soldiers were deployed in South Sudan to support the government's army.
In a summit in Angola, Museveni said: "Only the other day, 13 January, the SPLA [South Sudan army] and elements of our army had a big battle with these rebel troops at a point about 90 kilometres from Juba, where we inflicted a big defeat on them.
"Unfortunately, many lives were lost on the side of the rebels. We also took casualties and also had some dead."
After three weeks of negotiations, the warring parties have reached a stalemate as rebel leader and former prime minister Riek Machar's demands the release of 11 political prisoners accused of attempting a coup are blocked.
"From day one of Addis Ababa peace talks there has been little progress due to the fact that [the] government is not ready to release political prisoners [...]The government is not ready to release them simply because they must face trials, since they were accused of an attempted coup," South Sudan member of parliament James Kueth told IBTimes UK.
"The fighting is still going on in greater Upper Nile region. Therefore, no peace [deal] if both sides are still engaging in battlefield."
Meanwhile, UN secretary-general Ban Ki-moon condemned South Sudanese army rebels for stealing humanitarian aid and vehicles.
Both the US and China have urged parties to end the conflict; the US also warned that South Sudan could risk losing hundreds of millions of dollars in aid if a ceasefire deal is not reached.
The conflict started when current President Salva Kiir, who is an ethnic Dinka, accused his former vice-president Machar, an ethnic Nuer, of an attempted coup.
Machar denied the allegations and in turn accused the president of planning a violent purge.
The accusations sparked violence between the two tribal groups and escalated quickly into an ethnic conflict, which has caused the death of over 1,000 people and left thousands uprooted.
"Dinka and Nuer have rivalled each other since 18th century; they will unite themselves [again]," Kueth explained.
"The only difference this time is the random killing: the government forces decided to target Nuers who remained in Juba town; and most of them were not soldiers that could be suspected of taking part in a coup attempt.