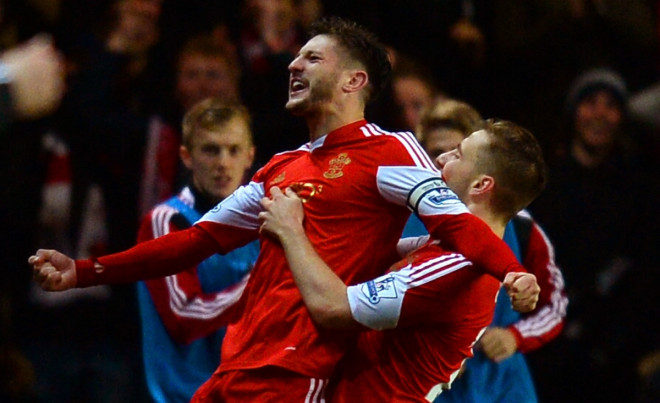 The possible transfers of Luke Shaw and Adam Lallana to Manchester United and Liverpool respectively are on hold until Southampton appoint a new manager, the club have confirmed.
The south coast club confirmed on Monday that striker Rickie Lambert has completed his move to boyhood club in Liverpool in the first of what is expected to be a series of departures from St Mary's.
Following Mauricio Pochettino's decision to step down as manager in order to join Tottenham Hotspur, the future of the club's coveted array of stars has come under more scrutiny than ever.
But while the club have confirmed they have received "multiple" bids for a number of their players in recent weeks Southampton do not intend to partake in any transfer business, ingoing or outgoing, until they have appointed a new manager.
"Southampton Football Club can confirm that we have received multiple offers for some of our players in the past weeks," a statement from the club read. "This is a confirmation of the depth of the development that is ongoing in our academy and of the present standing of our first team within the Premier League.
"We are staying true to our plan and vision and, as a result, we have no need to accept any offers. We are deep in the process of appointing a new manager who will continue to move our club forward.
"It remains our preference not to partake in any transfers until the new manager is in place. Our scouting and recruitment department continues to monitor targets we have identified to improve our squad, and the new manager will have final input into out recruitment process."
In addition to Lallana and Shaw, Morgan Schneiderlin remains linked with a move to Arsenal while full backs Callum Chambers and Nathaniel Clyne have also been linked with a move to the Emirates. Centre half Dejan Lovren could also join Lambert and possibly Lallana at Anfield with Brendan Rodgers reportedly an admirer of the Croatian.
Former Basel manager Murat Yakin remains the favourite to take the reins at Southampton following Pochettino's departure. In his two years in charge at the club the 39-year-old won two Swiss league titles and also masterminded victories over Chelsea and Tottenham in his club's impressive European performances.