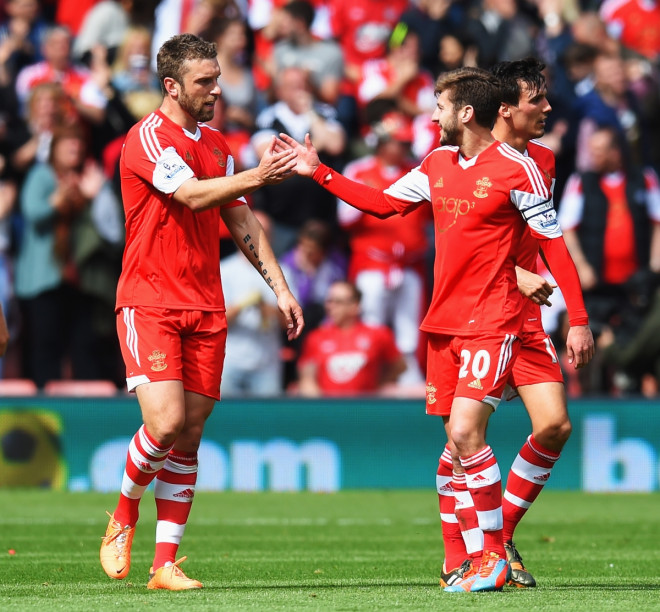 Liverpool have nearly completed the signing of Southampton's Rickie Lambert after the striker confirmed that the medical was successful.
Reports surfacing last Friday strongly claimed that the Reds are on the verge of completing a move for the England international from the Hampshire based club having agreed a £4m fee. Lambert was then spotted on Saturday morning in Merseyside for the medical after England's 3-0 victory over Peru.
Brendan Rodgers has stated that he and the club's officials have already begun working on signing potential targets in the upcoming transfer window. As Lambert looks set to be his first summer signing, Sky Sports' report claims that Liverpool will make an announcement of signing Lambert as early as Monday.
"The medical went well but as you know I can't say anything. I'll speak properly about it, hopefully, very shortly. It's been a crazy football year to be honest, the way it's carrying on," Lambert told Sky Sports.
"I spoke to Stevie a while ago, but I'll speak properly on Monday. There are lots of emotions as you can imagine so it's something I need to address and obviously I will address all parties when I get the chance."
Meanwhile, Liverpool are also looking to raid Southampton for their star midfielder Adam Lallana, by reportedly making an improved £26m bid.
Born in Kirkby, Merseyside, Lambert was in Liverpool's youth books before he was released in 1997. After playing for six clubs in various divisions of English football, signing for his boyhood club marks a remarkable moment in his career.
Meanwhile, Saints' legend Matt Le Tissier too acknowledged Lambert's decision to leave St Mary's while stating that the 32-year-old will perfectly fit in Rodgers' side.
"A lot of people down the years have described him as a target man but he's a lot more than that. He's a very good footballer. He's got a cracking touch and a pass as good as anybody, so I don't see him having a problem fitting in at Liverpool," Le Tissier told talkSPORT.
"I can see why Brendan Rodgers has been looking so closely at the Southampton players. He feels they can come to Liverpool and slot into a number of different positions."
"I'm disappointed as a Saints fan but it's a fantastic move for him. It's been a fairytale for him and to get a chance to go to his hometown club and be at a club in the Champions League is an absolute dream come true for him," the 45-year-old concluded.