Spain: 7 arrested on suspicion of supplying arms and cash to Isis under orders from Abu Bakr al-Baghdadi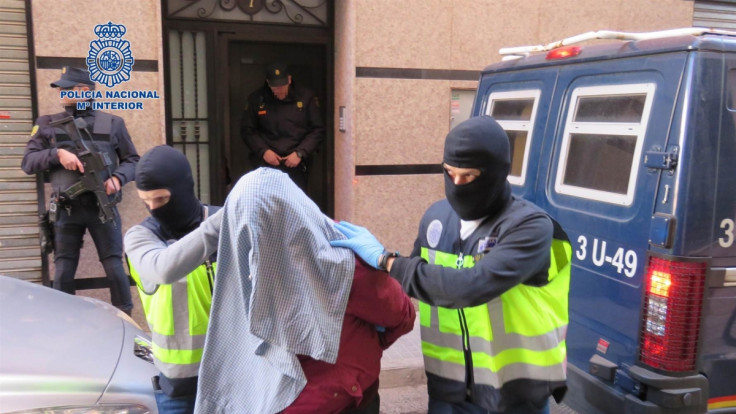 Seven alleged terrorists have been arrested by Spanish police, accused of sending cash and guns to Islamic State (Isis) under orders from the jihadists leader Abu Bakr al-Baghdadi. The Spanish interior ministry said the men also had links to fellow Sunni Islamic militants Jabhat al-Nusra who are operating in Syria.
They are accused of operating an international cell as a "business complex," allowing them to send money and guns unsuspected from Spanish ports, under the guise of humanitarian aid. They were arrested on Sunday 7 February in the eastern provinces of Valencia and Alicante, and across the water in Spain's North African enclave of Ceuta, bordering Morocco.
Worryingly, the group were said to have been operating in other European nations before coming under the watchful eye of Spanish authorities in 2014. Interior Minister Jorge Fernandez Diaz said police had uncovered evidence that the men provided "logistical support that was essential for the maintenance of terror activities" in war-torn Syria and Iraq.
The seven men include five Spanish nationals of Syrian, Jordanian, and Moroccan origin, and two foreigners from Syria and Morocco. They are accused of sending arms, bomb-making materials and electronic equipment to the terrorists in shipments and laundering money for the extremists.
A statement from the Spanish interior ministry said: "The continued supply [of logistical material] by this cell directly supported the continuity and reinforcement of terrorist structures in Syria and Iraq. The material was sent as humanitarian help to the conflict areas, but in reality what was being sent hidden amongst supplies was military material, money, electronic and transmission equipment, firearms and explosive-making precursors."
The ringleader of the covert cell was also said to have recruited women to be sent to Syria to become 'jihadi brides' to keep up morale for the IS fighters". The ongoing investigation is being coordinated by Spain's National Court in conjunction with state prosecutors.
In April last year, Spanish police arrested 11 people with suspected links to IS, who were allegedly planning terror attacks in Catalonia. Officers arrested 10 men and one woman, aged between 17 and 45, in raids in cities and towns including Barcelona and Tarragona on suspicion of crimes "linked to jihadist terrorism, particularly to the Islamic State group."
© Copyright IBTimes 2023. All rights reserved.