Bashar al-Assad's foreign minister has sent a stark warning to Saudi Arabia, the West and Turkey that any foreign ground troops entering Syria will "return home in wooden coffins". Foreign Minister Walid al-Moallem spoke in strong terms after Saudi Arabia said they were ready to join any US-led ground operations against Islamic State (Isis) in war-torn Syria on 4 February.
And on Friday Russian military spokesman Major General Igor Konashenkov said that there had been "a growing number of signs of hidden preparation" of Turkish forces near the Syrian border that could be the formation of a Turkish advance. The Syrian government is currently making gains in Aleppo, formerly the most populous city in Syria, whilst playing for time with opposition HNC representatives in now-collapsed UN-backed peace talks in Geneva.
A ground operation has been mooted as the most effective way of crushing Isis (Daesh) but al-Moallem warned that without the current regimes go-ahead there would be conflict with the Syrian Army. Currently Russian forces are battering the rebels with airstrikes in Aleppo but the Russians have no significant ground forces in the country.
"Any ground intervention in Syria, without the consent of the Syrian government, will be considered an aggression that should be resisted by every Syrian citizen," al-Moallem told a news conference in Damascus according to AP. "I regret to say that they will return home in wooden coffins."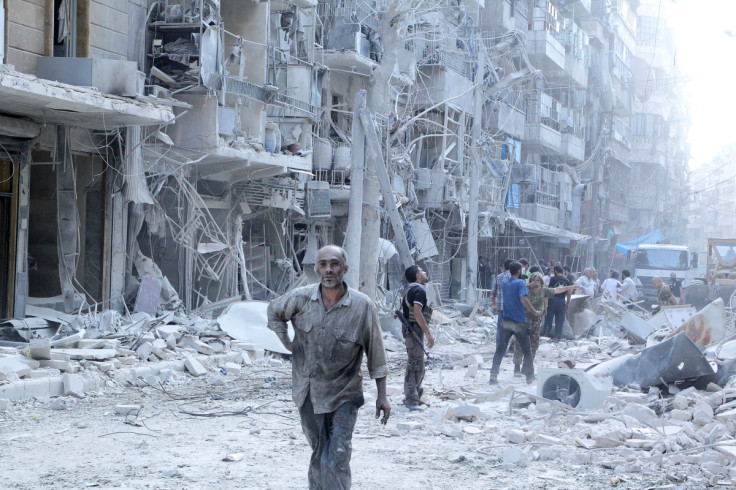 The foreign minister affirmed that the arrival of Saudi troops is unlikely, but that "with the crazy Saudi leadership nothing is far-fetched". The recent Syrian advance in the north of the country has left tens of thousands fleeing for the border with Turkey.
Al-Moallem said his troops' success in recent weeks signified that the five-year-old Syria war is coming to an end. He urged rebel groups still fighting against the government offensive in the north to "come to their senses". He said: "It is time to return to your senses and come back to the nation's fold, because even your supporters and sponsors have abandoned you."
An estimated 70,000 refugees will arrive at the Turkish border by Sunday evening as humanitarian efforts try to assist fleeing citizens. An estimated half a million people are still living in the city, despite Russian air strikes.