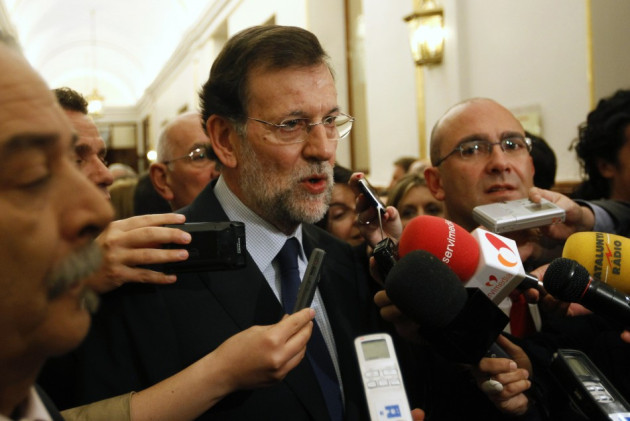 Spain is nearing agreement on a €300 billion bailout package with the European Union and the International Monetary Fund, according to Dutch financial daily Het Financieele Dagblad, as the Eurozone's finance ministers prepare to meet in Cyprus.
The report citing "informed sources" says talks are underway between the European Central Bank and the IMF which would see the fund set and monitor strict conditions for Spain's federal budget, before the ECB would use its newly-announced programme of bond market purchases, or Outright Monetary Transactions, along with a package of EU loans.
Various media reports suggest Spain is being pressed from many capitals around Europe to accept a full EU bailout in order to try and a dran a final line under the two-year old crisis that has seen Greece, Portugal and Ireland negotiate nearly €400bn in rescue funds.
Spain's Prime Minister Mariano Rajoy, who arranged a potential €100bn in EU funds to support his country's embattled banking sector, has said he has not decided on whether to approach Brussels for a broader bailout that would be linked to conditions on spending and austerity.
Spain's budget minister, Cristobal Montoro, told reporters in Madrid that his country's "desire and intention is to return again to being a reliable partner in Europe that doesn't ask for anything."
Rajoy may prefer to buy time before his government presents its annual budget plans to parliament and makes public the recapitalisation needs of its banking sector on 28 September, and ECB President Mario Draghi's plan to use the European Stability Mechanism for "unlimited" bond purchases has certainly had a marked impact on Spain's borrowing costs.
Benchmark 10-year bond yields have fallen more than 200 basis points to 5.62 percent while Spain's 2-year yields have slid below 3 percent.
Credit default swap prices on Spanish government debt have also tumbled to a one-year low of 333 basis points, according to data provider Markit, meaning an investor would have to pay €333,000 each year for five years to insure €10m in Spanish government bonds against default.
However, Spain faces a significant set of economic and political hurdles before the next European Leaders' Summit in October, when most analysts expect a formal decision on EU-led aid will be taken. It needs to refinance €27.5bn in debt that comes due next month - a task that could be made more difficult if it loses its investment-grade debt rating.
Moody's, which currently rates Spain just one notch above "junk" status at Baa3, is expected to conclude its review of the rating by the end of this month.
Regional elections in Galicia and the Basque Country on 21 October could also create political complications for Rajoy as his government seeks to improve more financial discipline on the country's 17 semi-autonomous regions. More than half of its €18bn Regional Liquidity Mechanism has already been allocated (to Catalonia, Valencia and Murcia) and analysts suggest another €16bn in regional debt will mature before the end of the year.
If nationalistic sentiments come alive in Basque elections, they could spill over into Catalonia, where more than 1 million people demonstrated in the streets of Barcelona last week demanding independence from Madrid.
"Catalonia currently transfers to Madrid up to 10 times more than the Basques on a per capita basis," writes Societe Generale economist James Nixon. "If Catalonia had a Basque tax regime, it would have Basque finances, it says, instead of having to go cap-in-hand to Madrid for help with its debts and payroll - to be rescued, in effect, with what it regards as its own money."
Spain's federal government can't meet the financial demands of an ageing poputlation, Nixon argues, without Catalan support. Yet any EU bailout will likely erode regional financial authority and ignite further calls for independence.