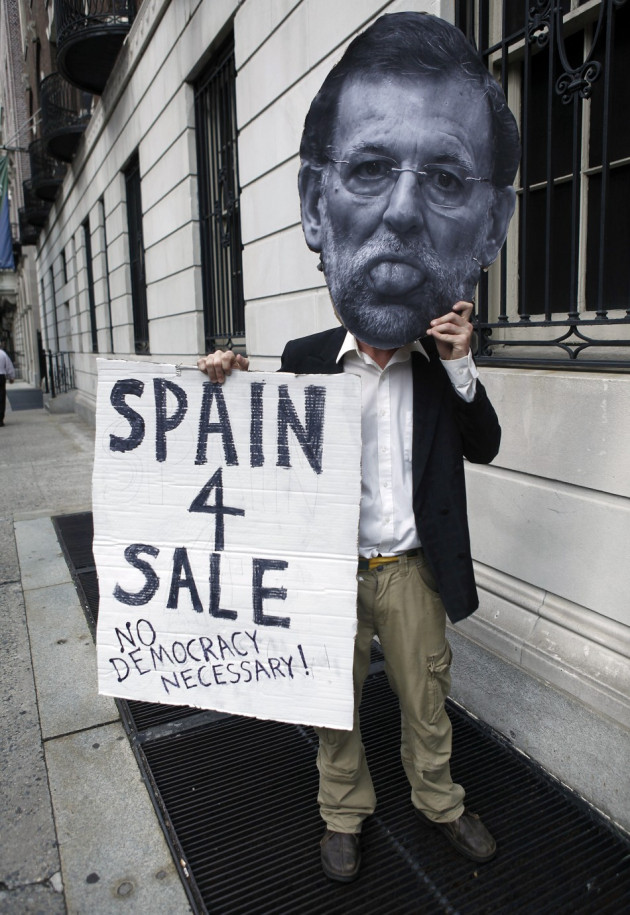 Spain\'s Prime Minister will present details of his second budget statement in Madrid Thursday as he faces what could be the most critical 48-hour stretch of his year-long government.
Mariano Rajoy and his Economy Minister, Luis de Guindos, will outline a fifth series of spending cuts and savings measures as part of the Popular Party government\'s 2013 budget statement, during a press conference which is slated to begin at 1 pm London time.
In an effort to meet European Union-mandated targets on deficit reduction, Rajoy is expected to announce a series of measures that include civil service wage freezes and pension reforms, on top of previous moves aimed to reduce the government\'s spending overshoot to around 4.5 percent of GDP from a targeted 6.3 percent this year.
A private audit - ordered by the government last spring - of the nation\'s banking sector will be published Friday.
Spanish stocks are little changed ahead of the statement after falling nearly 4 percent Wednesday in the wake of violent protests outside the Spanish parliament and the snap election call by the president of Catalonia, Spain\'s biggest and most economically influential region, which many analysts worry may add a new political risk to the fiscal concern that has already pummelled Spain\'s economic prospects.
Spain\'s benchmark 10-year bond yield rose more than 30 basis points, the most in at least a month, to a three-week high of 6.05 percent Wednesday as investors assessed the risk of a potential vote for indolence in Catalonia and, potentially, the Basque country, which goes to the polls on 21 October.
Rajoy has already proposed a mixture of tax increases, spending cuts and other savings worth around €65bn on Europe\'s fourth-largest economy in an effort to both steady its finances and reverse a steepening recession that has lifted unemployment to the highest level on record. The bulk of those measures, however, will be borne by Spain\'s seventeen semi-autonomous regions, creating a political context that threatens to overshadow Rajoy\'s drive for fiscal discipline.
Catalonia has been locked out of financial markets for several months after having been downgraded to \"junk\" status by both Moody\'s Investors Service and Standard & Poor\'s. It has applied for around €5bn of financial aid from the federal government\'s €18bn regional rescue fund but would like to hold back a larger portion of the taxes it collects in order to stabilize its own finances. Rajoy says this violates the country\'s 34-year old constitution.
Local elections in the Basque Country and Galicia could well ignite the same passions and further complicate Rajoy\'s austerity strategy as he faces calls to reform sacrosanct federal pensions, a move many analysts believe could topple his government, which is already suffering in polls after several election pledges on tax and spending were reversed earlier this year.
Earlier this month, on the traditional Catalan holiday, more than 1.5 million took to the streets of Barcelona to call for independence from Madrid.
Friday\'s bank audit is likely to confirm earlier estimates that the country\'s financial institutions will need around €62bn in new capital from the recently arranged EU rescue fund of around €100bn. Private auditors Oliver Wyman and Roland Berger will publish the results.
Moody\'s Investors Service may also complete its review of Spain\'s Baa3 debt rating in the next 48 hours, which sits just one notch above \"junk\" status, sometime this week. A cut below that threshold could precipitate a sharp rise in bond yields, as many institutional investors could be forced to sell securities after losing the investment-grade rating. Standard & Poor\'s said earlier this week it does not expect to cut the investment grade rating it holds for Spain in the near-term.
Fitch Ratings slashed its rating on Spain to BBB, the cusp of investment grade, in June and warned it may lower the assessment further given \"the risks associated with a further worsening of the Eurozone crisis, notably contagion from the ongoing Greek crisis.\"