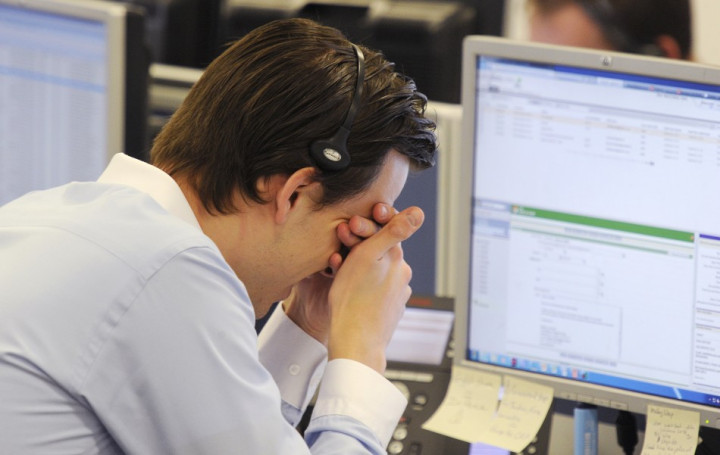 1550 BST: Wrapping up
A last look at Spain's debt prices before I call it a day: 10-years hit record high 6.83 percent (and may yet breach the 7 percent threshold that triggered Greece and Portugal's bailout) while CDS prices touch an all-time high of 610 basis points. Spain's IBEX gives back gains to trade 67 points lower at 6,449.20.
1540 BST: Short odds
British Bookmaker William Hill has shortened the odds of Spain leaving the year this year from 10/1 to 5/1. In fact, William Hill says there's a 4/1 chance Spain will be the first country to do so. Greece, however, remains the red-hot favourite at 1/8 *on* to exit the single currency this year. That means a £20 bet would net a total return of £22.50.
1520 BST: Turning red
European share markets have given back the day's modest gains and are trading in the red across the board, with Italy's FTSE MIB the standout decliner (-1.4 percent). The single currency is also down on the session at $1.2451.
1515 BST: New Debt
The EFSF has priced its €1.5bn 25-year bond with a 3.375 percent coupon, which was right in line with the market's expectation of 1.3 percent over a "mid-swaps", an interbank lending benchmark.
1510 BST: More Spanish woes
Fitch Ratings has downgraded the issuer default ratings of 18 Spanish banks. Spain's 10-year bond yields are now at a record-high 6.80 percent.
1425 BST: Stating the obvious
But nonetheless it sill sounds unerving when it's spoken alound. Dutch Finance Minister Jan Kees de Jager, speaking during a domestic TV interview calls the current situation in Europe "far from stable" and describes it has having "considerable urgency".
We're seeing Spanish 10-year debt now trading at a 2012 high 6.69 percent [UPDATE: 6.71 percent] while Italian 10-year debt has hit 6.15 percent. German bunds, oddly, are falling (ie yields rising) with the suggestion being that traders are making room pending €1bn sale of the 25-year EFSF bond. Not sure I'd accept that explanation, but it's a theory nonetheless!
1350 BST: Hasn't this already happened?
German Chancellor Angela Merkel, speaking today in Berlin, says EU states may have to give up a portion or their sovereignty in return for collective financial protection. However, she reiterates her resistance to the concept of Euro bonds (which are specifically against Germany's constitutional laws anyway).
1340 BST: Spain yields rising fast
... benchmark tens are printing 6.68 percent and within a whisker of pre-LTRO levels (6.72 percent) hit back in November of last year.
1240 BST: All quiet
Italy remains the only major European market in the red this morning although caution - and a lack of headlines - has dictated much of the market's tone this morning.
There's renewed talk of an EU banking union, some entertaining back-and-forth between the Italian Prime Minister and the Austria Finance Minister, grim economic data from the UK and a relatively weak Gilt auction (despite more evidence that another round of QE might be necessary to revive Her Majesty's moribund economy), but nothing compelling enough to change the direction of markets in any significant way.
Bond yields are rising in Spain and Italy, the latter perhaps the more serious of the two, given its task of flogging €9.5bn in debt later this week. The 6 percent threshold has been firmly breached by Italian 10-year benchmarks and credit default swap prices have risen to disquieting levels.
The single currency is little changed at $1.2475.
1210 BST: Deposit Talk
A couple of weeks ago, I ranted a bit about the fact that nearly €800bn was being "round-tripped" to earn 0.25 percent at the ECB's overnight deposit window instead of finding it's way into to real economy at a time when credit growth and cash stimulus are desperately needed.
Seems ECB governing council member Jozef Makuch, the Slovakian central banker, is making some headlines this morning regarding that very same deposit rate, suggesting it should be cut to zero. Makuch says lowering the current 1 percent base rate - or ramping up the ECB's €1tn Long-Term Repo Operations would have a very limited impact on the current crisis.
1145 BST: The worlds biggest CDO
Price details are beginning to emerge on the planned €1.5bn 25-year bond sale by the temporary European bailout fund, the EFSF. Despite the fact that five of its capital contributors (Ireland, Greece, Spain, Portugal and Italy) comprising 36 percent of the fund's total are either in bailout negotiations, rumoured to be nearing bailout negtiations or have already been bailed out, the the EFSF still holds a triple-A credit rating.
As such, joint sale managers BNP Paribas, Deutsche Bank, and JPMorgan are able to market the bond sale at significantly better rates (around 1.3 percent more than "mid-swaps", ie a low-base interbanking lending benchmark).
1135 BST: The Brushback pitch ...
Americans will recognize the baseball metaphor in Italian Prime Minister Mario Monti's admonishing of Austria's Maria Fetker's comments as "completely inappropriate". Baseball pitchers will often throw the ball fast and close to the opposing batter if he is deemed to have stood too close to the plate or acted in an offensive or unsportsmanlike manner. It's called a brushback ... or, more colloquially, "chin music".
1115 BST: Next stop, Rome?
Really not the kind of question a seasoned politician should stumble on, but Austria's Finance Minister seems to have found a way. When asked by reporters after a cabinet meeting if her country would be supportive of an Italian request for EU financial support, Maria Fekter said "yes". She later added a damage-controlling caveat (there are no signs that Italy will seek to tap EU bailout funds) but then negated that by saying it can't be ruled out.
Accepting the premise of the question: Political Interviewing 101.
1100 BST: Mixed
European markets remain mixed across the board this morning with modest gains for major western European indices and continued weakness in the peripheral markets.
Anthony Browne has been confirmed at the new CEO of the British Bankers' Association, replacing the outgoing Angel Knight, whose five-year term expires this summer. Browne, who is currently the head of government relations for Europe, Africa and the Middle East at Morgan Stanley, will take up the role on 1 September.
0935 BST: UK Manufacturing weakens ...
... more grim data from the manufacturing portion of the British economy, with output falling 0.7 precent in April on a monthly basis and 0.3 percent on an annual basis. Both figures were well outside of analysts' estimates. Industrial production was flat in April for the month, and down 1.0 percent for the year.
The figures will make Britain's exit from recession that much more difficult, given the marked slowdown in most of our European trading partners and the 0.3 percent clip to GDP we're likely to take as a result of the four-day Jubilee celebrations.
Export figures to non-EU partners were also published by the Office for National Statistics - and they're not pretty. Sales outside the EU fell 17.5 percent in April, or £2.4bn.
0925 BST: Dutch auction ...
That isn't really a "Dutch auction" but just a regular bond auction. In any event, The Netherlands sold €€1.65bn in 20-year "Dutch State Loans" at an average yield of 2.342 percent, which is about 40 basis points lower than the previous sale.
0850 BST: Italy under pressure, too
Italian 10-year government bond yields are firmly above 6 percent this morning, trading at 6.14 percen. Credit default swap prices have risen 11 basis points to 561 basis points, meaning the cost of insuring €10m in Italian debt has risen €11,000 to €561,000.
Italy's FTSE MIB is down 82 points, or 0.32 precent, to 12, 989 and edging toward's the 52-week low reached on 1 June.
0840 BST: Spanish bonds weaken
Benchmark 10-year bonds are backing up to 6.56 percent, around 50 basis points higher than the low printed early Monday morning following the bailout news. Spain's IBEX 35 is little changed from yesterday's 6,516 close with banks once againt underperforming the broader market.
Five-year credit default swap prices on Spanish debt are trading 5 basis points, or €5,000 on a €10m contract, higher at 605 basis points.
0815 BST: Banking Union
ECB governing council member Christian Noyer is moving markets this morning with his comments on the need for a European banking union. He says a single deposit guarantee around the Eurozone will ultimately be needed to "de-link" bank and sovereign debt risk and that such a union must include banks of all sizes. He also makes the case for banking system supervision that's "close to" the European Central Bank in an op-ed published in today's Wall Street Journal.
Bank shares in Spain and Italy have gained on the comments, which have hit the wires just a few moments ago, while the Euro STOXX Banking Index is down 1.2 percent at 82.27.
0805 BST: European shares mixed
Markets opening with a cautious tone as the FTSE 100 trades little change from Monday's close 5,432.7. The Europe-wide FTSE Eurofirst 300 is down 0.1 percent to 982.3 and we're seeing 0.4 percent dips in both Spain and Italy in the immediate minutes after the opening bell.
0800 BST: Fitch warns on Spain
Spain will miss "significantly" its budget deficit targets both this year and next, according to Ed Parker of Fitch Ratings, echoing sentiments of many independent observers. The view also compounds investor concern regarding the lack of detail in Spain's bailout agreement and the treatment of existing bondholders. Last night, Standard & Poor's warned that Spain's capital market access could suffer if bondholders were to be subordinated by loans granted by the permanent bailout facility, the ESM.
0750 BST: Good Morning!
A week might be a long time in politics, but in today's capital markets, 24 hours seems like a geological age. Only one day removed from one of the strongest equity rallies of the year and already markets in Asia and Europe have reversed form as investors increasingly question the effectiveness of the vague financial rescue package agreed between Spain and its European partners.
The broadest measure of Asia share performance, the MSIC Asia Pacific Index, fell 0.7 percent overnight while financial bookmarkers are calling for Europe's larger share markets to fall between 15 and 35 points after the opening bell. Commodity markets were also in focus as crude oil prices fell as much as 2 percent taking prices to levels last seen in October.
Bond markets are up an running with German bund futures trading at 143.90 and Spanish benchmark 10-year bonds back to their pre-bailout levels of 6.5 percent. The Euro traded under 12.5 against the US dollar for most of the session and was last seen at 1.2496